Ryan Stelter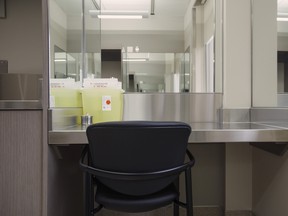 Content of the article
The issue of supervised consumption sites has become a topic in this year's mayoral race.
Content of the article
The candidates pitched the idea to voters, which is sure to divide the room. Those in favor of facilities that allow intravenous drug users to use in a controlled environment voice their support, as do those who oppose them.
Content of the article
The prevailing arguments against supervised consumption sites are those that are generally based on criminality and unwanted behavior. Those opposed to the idea will say that funding these facilities will empower drug addicts and attract drug dealers, which in turn will lead to increased crime in the area surrounding the site.
Content of the article
Some of the more financially conservative people will say that it just costs too much money to operate and it's better to treat people to help them get off drugs.
Content of the article
Of course, we cannot dismiss these concerns and I am not going to try to dismiss one position over another. In fact, I am in favor of supervised consumption sites because I believe the positives outweigh the negatives. However, you may feel differently for one of the reasons listed above or for your own reasons.
Addiction is a complicated and messy thing. People fall into the clutches of opioid use in different ways and, truth be told, we can't blame them. It seems silly to scold someone who is addicted to or uses opioids or other drugs when we all have our own vices.
For example, alcohol is a normal thing to consume. In fact, it's the most abused substance in the country, according to the Canadian Center on Substance Abuse. The government profits from the sale of alcohol and there are countless places where people can wet their whistle with whatever type of booze they want in a controlled environment.
Content of the article
Other research by the Canadian Center on Substance Abuse at the University of Victoria found that in 2017, health care costs related to substance use were $13 .1 billion. Alcohol ($5.4 billion) and tobacco ($6.1 billion) contributed nearly 89% of the costs. After those two, opioids cost the health care system $439 million.
Thomas Linner, the executive director of the Manitoba Health Coalition, recently presented the situation to me in a way that set everything up.
"I'm going to watch Liverpool Football Club play on my favorite supervised consumption site," Linner said, of course referring to a bar.
There are legitimate reasons for setting up a supervised consumption site in Winnipeg. This could reduce overdose deaths, free up healthcare resources and reduce waste. To boot, it can also help addicts connect with services to recover and get better. It can serve as a smooth entry point on a path to recovery.
Content of the article
More than 700 Manitobans died from overdoses in 2020 and 2021.
"It doesn't matter what you think about individuals' choices — some of them aren't really choices — but no matter what you think, they shouldn't die for them," Linner said.
"I think we can all agree on that. Which is to say, if we agree on that fundamental concept, let's all work together to see what we can do to make sure it doesn't. not happen.
However, no matter where you land in the supervised consumption debate, no mayor can do it alone. It will require assistance from the province and the federal government. The MHC has argued for a supervised consumption site, but Linner says the fight will die without a mayor and council pushing it.
"Leadership is not coming from the provincial government right now," he said. "We have a municipal election right now where Winnipeggers are dying. So how are you going to solve this problem? »
Content of the article
MHC sent out a harm reduction survey and included a question about supporting a supervised consumption site. Idris Adelakun, Rana Bokhari, Chris Clacio, Robert-Falcon Ouellette and Don Woodstock were in favor of one while Scott Gillingham is not.
Kevin Klein, Glen Murray, Jenny Motkaluk, Rick Shone and Shaun Loney did not complete the survey. Loney's campaign will respond to poll questions and it's worth noting that Shone came up with the idea of ​​a supervised consumption site this summer.
A supervised consumption site may not solve all the problems plaguing Winnipeg and no mayor can do it alone and perhaps the voters who elect in a few weeks will determine if there will be one.
To sign up for Ryan GIMME STELTER's weekly newsletter, Click here.


Source link https://winnipegsun.com/opinion/columnists/stelter-supervised-consumption-site-debate-could-divide-voters-in-civic-election