Rent and tuition were already high, now inflation has driven up food and gas prices. More students rely on food banks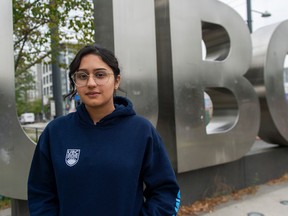 Article content
Jessie Niikoi is a full-time college student working two jobs to pay her bills. She's one of a growing number of young people struggling with the financial burden of post-secondary tuition fees, sky-high rent, and inflation driving up the costs of groceries and other necessities.
Article content
"I have had to double down or budget on everything that I'm spending. I've had to limit how much going out I do. I've had to limit how much ordering of food I do. And then also resorting to buying canned products of food instead of fresh produce," said Niikoi, 22, a second-year biology student at Camosun College in Victoria.
Article content
"It's kind of hard. I'm working all week, and I'm still doing homework, and then doing school at the same time."
Inflation has driven up the prices of nearly everything, making it difficult for most Canadians to meet day-to-day expenses. Some college and university students have resorted to applying for more loans, taking their cars off the road to avoid paying for insurance and gas, and relying on food banks to eat.
Article content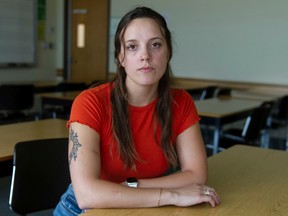 "We saw a really large increase of students using the food bank throughout COVID. So I think that it's just going to continue to increase," said Bailey Cove, an executive member of the Douglas College Students' Union, which runs a food bank on the New Westminster campus.
"A lot of students have actually had to start selling their belongings in order to pay for rent and food. … And I work two and a half jobs in order to just literally scooch by. With full-time schooling, it doesn't leave much time for my social relationships."
Both Niikoi and Cove are members of the B.C. Federation of Students, which says tuition fees have more than doubled over the past two decades, and average student debt after four years of school is now $30,000.
Article content
It says this is largely because the proportion of provincial funding that covers the cost of running colleges and universities has dropped to 44 per cent in recent years from 80 per cent in the 1980s.
The federation has tried to help students by creating an app offering discounts at restaurants and stores, and is pushing the province to spend more on post-secondary institutions so that tuition can be reduced. It also wants the federal government to make permanent its temporary pandemic measure of pausing the accrual of interest on federal student loans.
"If we have more funding for schools then essentially they would not need to drive up our fees," said Niikoi, who is on the executive of the Camosun College Student Society.
Article content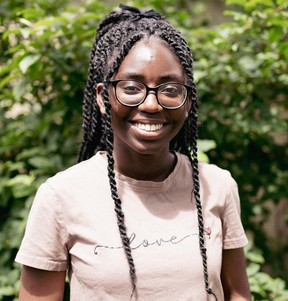 B.C.'s Advanced Education Ministry said in an email that post-secondary funding has gone up recently, to $2.4 billion this year from $2 billion in 2018-19. The NDP government has also launched a funding review of the province's 25 colleges and universities, to be done by next summer, and has provided more than 47,000 students with grants of up to $4,000 a year through the B.C. Assess Grant program.
"While we recognize the very real cost pressures students are facing, currently British Columbia has the fourth lowest undergraduate tuition in Canada," the ministry's email said.
The ministry notes that tuition for domestic students, like Cove, cannot rise more than two per cent a year. But that government policy does not apply to fees for international students, like Niikoi, who have seen tuition increase by 64 per cent since 2006, according to the B.C. Federation of Students.
Article content
Niikoi, who moved to Canada from the West African country of Ghana in 2019, pays $6,000 in tuition each semester at Camosun, roughly double that of domestic students. Her federal student permit bans her from working off campus more than 20 hours a week, so she has found a second job on campus so she can pay her bills.
Most post-secondary student unions are trying to help young people through these tough financial times by extending programs launched during the pandemic or creating new ones.
The Simon Fraser Student Society offers grocery gift certificates and free safer sex and menstrual supplies. It is also looking into how to hold financial literacy seminars, probing how to lower the cost of pricey textbooks, and advocating financial leniency for SFU students in dire need, said acting president Judit Nagy.
Financial uncertainty, Nagy said, "has significantly impacted our student population in regards to actually being able to enrol in classes. Tuition is not as affordable as it was a couple of years ago. The prices keep going up. Getting a part-time job or a full-time job is getting harder as well. It's a very tough position for us to be in."
The Alma Mater Society, or AMS, the student association at UBC, has created a student affordability plan, which was approved by the university's board of governors in the spring. UBC has earmarked $825,000 to begin acting on the plan's recommendations, which cover financial aid and grants, food insecurity, affordable housing, textbook costs, and student debt.
Article content
Ideally this plan will bring some monetary relief because "being a 'normal' student isn't how life is anymore for some students on campus," said the Alma Mater Society president, Eshana Bhangu.
"Inflation is absolutely crazy high. And the housing crisis has had a huge impact on students," added Bhangu, 21, a fourth-year international relations student.
"Now (students) don't just have to worry about classes and homework, but if they'll be able to pay rent? If they'll be able to buy groceries? Should they be eating less food so that they can buy textbooks? So, unfortunately, it's just a lot of trade-offs, which I wish students didn't have to make."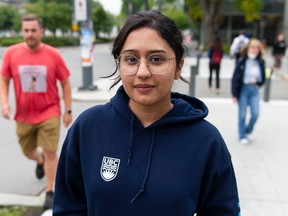 With help from donations, the Alma Mater Society runs a food bank for needy students and a "meal share program" that provides $100 cards for campus restaurants or grocery stores for approved applicants.
Article content
"We are seeing very, very high usage of our AMS Food Bank. … Unfortunately, we see lineups around the corner," Bhangu said. "If we compare to pre-pandemic levels, usage has gone up by over 200 per cent."
A second food bank, the Acadia Food Hub, also operates on the Point Grey campus, said Pastor Craig O'Brien of Origin Church, which was created by a student ministry club.
Once a week, groceries donated by the Greater Vancouver Food Bank are distributed near student housing populated by international students and postgraduates with families. Acadia also gives out diapers, formula and other baby supplies, partly funded by grant money from the university, O'Brien said.
This relief effort was initially sparked by professors who could see some international students were being pinched financially for a number of reasons.
Article content
"We must do something to help them because we have students who are skipping meals, their health is in decline, their children are suffering through this," O'Brien recalls professors telling him.
The need at Acadia is significant. The Greater Vancouver Food Bank gives supplies to 118 community agencies that hand out groceries, including shelters and children's programs, and Acadia receives the second largest amount of those donations.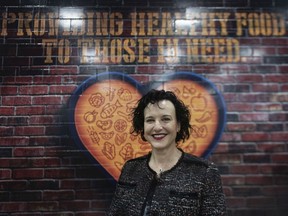 "We were starting to hear that there were starving students at UBC," said Cynthia Boulter, the Greater Vancouver Food Bank's chief operating officer. "There were stories of students fainting, dumpster diving. And it just seemed quite desperate."
Acadia feeds 450 people a week, from an annual total of 84,000 kilograms of donated food, but still often runs out on distribution day. Boulter's organization has given it a $5,000 grant as well to buy more baby supplies.
Article content
The AMS Food Bank also recently asked the Greater Vancouver Food Bank for one-time assistance because of a sharp increase in demand from students.
"The whole thing is alarming. But I just can't wrap my head around an organization the size of UBC, with the resources they have, students shouldn't be going hungry," Boulter said.
Last week, she met with UBC officials to ask the university to do more to support these campus food banks, rather than relying on her charity to do it. She was encouraged, she said, by their preliminary discussions about restarting low-cost food programs closed during the pandemic, and possibly expanding the AMS food bank if UBC can provide a larger space and more funding.
In response to questions about how it supports hungry students, UBC said in an email that food insecurity is an issue for post-secondary students across Canada.
Article content
It is one that "significantly impacts mental, physical and social well-being, (and) academic success," wrote Noorjean Hassam, chief student health officer, and Andrew Parr, associate vice-president, student housing and community services.
The university budgeted $1.63 million this academic year for several programs that help with food relief at both the Vancouver and Okanagan campuses, including $25,000 for the AMS food bank and $325,000 for a variety of programs, such as the meal share and the Acadia Food Hub, the email said. This is in addition to nearly $300,000 contributed by student unions on both campuses to run their food banks.
Students from other schools have also relied on the Greater Vancouver Food Bank for help, including those from several private colleges with a large number of international students, said Boulter.
Article content
More than half of post-secondary students in Canada experience moderate to severe levels of food insecurity, according to the BCIT Student Association.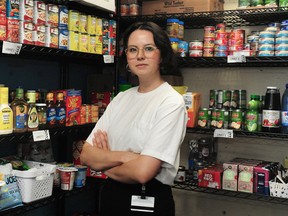 It's difficult for students to get to food banks off campus as they are typically open when classes are in session and often require cars. So the association opened BCIT's Food Pantry in January, using donations from the Greater Vancouver Food Bank. It has had more than 600 student visits, and that is expected to balloon this school year, said Victoria Williams, the association's wellness and advocacy coordinator.
"These last couple of weeks here have been really picking up steam, and students are really excited that there's support available to them on campus. It's a really tough time for so many folks and I think students are at an even higher risk," she added.
Article content
The student associations at both BCIT and Douglas College are trying to create financial budgeting workshops to help students learn how to make their money stretch as far as possible.
"It's a tough place to be in. No one wants to have to choose if they have to pay for gas or food for the week," said Cove, the Douglas Students' Union director of college relations.
She hopes post-secondary funding will be significantly increased. Then, she argued, students "wouldn't have to take out loans or work multiple jobs to survive. We are all working to better our future, and it would help if we didn't come out of school burnt out and in debt."
---
More news, fewer ads: Our in-depth journalism is possible thanks to the support of our subscribers. For just $3.50 per week, you can get unlimited, ad-lite access to The Vancouver Sun, The Province, National Post and 13 other Canadian news sites. Support us by subscribing today: The Vancouver Sun | The Province.





Source link https://vancouversun.com/news/local-news/how-university-college-students-are-scrounging-to-pay-for-food-gas-housing