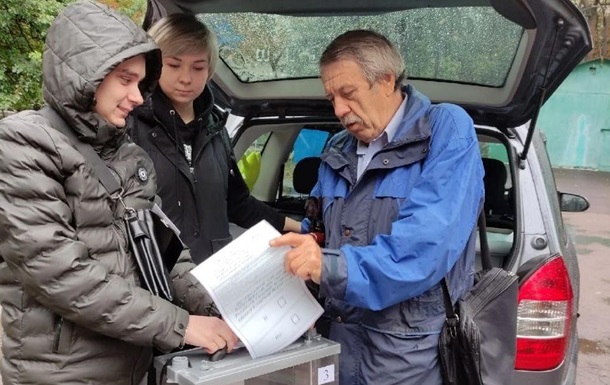 Photo: social networks
They are trying to gather votes right on the street
The so-called "referendums" began today in the occupied Ukrainian territories.
Russian occupiers are trying to create the appearance of legitimacy of "referendums" by forcing local residents to vote, reports The Main Directorate of Intelligence of the Ministry of Defense on Friday, September 23.
"In occupied Mariupol, it is planned to hold a "referendum" by so-called "commissions", which will include local collaborators, representatives of the occupation administrations, and soldiers of the Russian Armed Forces. They will visit houses according to compiled lists of those willing to receive "humanitarian aid". Local residents are convinced that " there is no way back" and everyone who took the "humanitarian" will have to vote," the message said.
It is noted that the "referendum preparation headquarters" in Mariupol will be deployed in one of the shopping centers. His actions are fully coordinated by representatives of the United Russia party.
According to the GUR, in order to avoid being hit by Ukrainian artillery, the occupiers are placing all the preparation centers for the pseudo-referendum in premises with a large concentration of civilians.
In order to ideologically and propagandistically process the population, the occupiers are organizing a series of "military-patriotic education" events.
In particular, a "youth forum" was held in the city of Gola Prystan under the slogan "We are together with Russia". Middle and high school students were involved to participate in it.
The Russian public organization of veterans "Battle Brotherhood" and others plans to open a branch in Mariupol.
As you know, today the occupiers announced the start of "referendums" in the so-called "DPR", the so-called "LPR" and in the occupied territories of the Kherson and Zaporizhia regions. In this way, they want to annex the captured territories of Ukraine to Russia.
The world community does not recognize pseudo-referendums and prepares them new sanctions against Russiaand also intends to provide more assistance to Ukraine in the war with the aggressor.


Source link https://ua.korrespondent.net/ukraine/4519105-okupanty-prymushuuit-naselennia-do-holosuvannia-hur