For the New Year's table, there is a salad cooler than the traditional Olivier, and it is very easy to prepare.
If you are interested in what to replace sausage in Olivier, you may like the vegetarian version of this traditional New Year's salad. Such a dish is unusual and quite light, so it will not spoil the figure.
The most difficult thing is to rebuild consciousness and still decide not to use any type of sausage in this salad.
New Year's light olivier is a simple recipe
What you will need to prepare the salad:
Boiled large potatoes – 3 pieces;
Canned corn – 100 g;
Canned green peas – 100 g;
Fresh carrot – 1 piece;
Onion – 1 piece;
Pickles – 100 g;
Tofu – 100 g;
Hummus – 3 tablespoons;
Ketchup – 1 teaspoon;
Soy sauce – 1 teaspoon;
Salt, pepper, greens, sesame – to taste.
How to cook unusual olivier – a step-by-step recipe
Cut pickles, boiled potatoes, onions, and tofu into small cubes and put everything in a deep bowl.
Grate the carrot on a coarse grater and send it to the already prepared ingredients. Then put the canned corn and canned peas in a bowl.
How to dress Olivier salad – an unusual recipe
Mix hummus with ketchup and soy sauce. The finished dressing should not be too thin.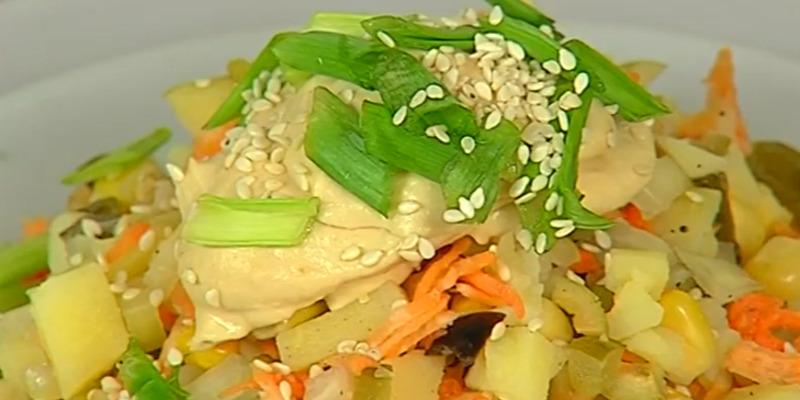 Pour the salad bitterly on a flat plate, put the dressing on top and decorate everything with greens and sesame seeds.
You may also be interested in news:


Source link https://www.unian.ua/recipes/salat-zamist-oliv-ye-shcho-prigotuvati-na-noviy-rik-2023-12066996.html