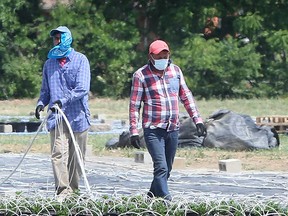 Article content
By Shelley Gilbert
Article content
Across Canada, migrant workers are harvesting and picking tomatoes in fields and greenhouses.
Article content
They are preparing double-doubles in our neighbourhood coffee shops. They are caring for our children and elderly. They are building the new condominium next door.
And yet, while migrant workers play an essential role in our communities, many are deprived of their fundamental and basic human right to freely change employers.
Without this right, workers have little bargaining power to demand the respect of their basic human, labour, socio-economic and contractual rights, let alone better working conditions.
In 2016, the House of Commons Standing Committee found that employer-specific work permits "often lead to a power imbalance that is conducive to abuse" and called for the immediate elimination of these permits.
Article content
Decades of media coverage and research has shed light on how the system is rife with abuse, yet Canada continues to ignore numerous recommendations to end the employer-specific work permit.
Instead it has implemented a policy allowing workers to change employers only if they can prove they have been abused. In other words, workers are forced to experience abusive and often traumatic conditions before they can apply for a permit that allows them to start working for another employer.
A 2021 report by the Association for the Rights of Household and Farm Workers found workers face multiple barriers that make it difficult or nearly impossible to obtain this permit.
There are approximately 8,000 to 10,000 migrant workers in the Windsor/Essex area currently on employer-specific work permits and more than 120,000 across Canada. All these men and women provide essential labour in our communities.
Article content
Those of us working with migrant workers often hear the phrase: "I want to work, but I didn't know my employer would be able to treat me this way." They describe racist insults, unexplained deductions from their pay, a lack of safety protocols and terrible housing conditions.
These workers need more than superficial policy changes that tinker around the edges of the problem. They need meaningful reforms ensuring the respect of their right to freely change employers.
Canadian workers would benefit if migrant workers had the right to freely change employers. Justice Robert Jackson of the U.S. Supreme Court once wrote that a system of unfree labour "affects not only the labourer under the system, but every other with whom his labour comes in competition." This statement is as true today as it was in 1944.
Article content
When employers say migrant workers are more productive and reliable than Canadian workers, what they really mean is they prefer workers legally bonded to them compared to workers free to seek better working conditions and able to enforce their rights.
Giving migrant workers greater bargaining power would produce fairer competition within the labour market, as well as between them and citizen workers.
Migrant workers have been coming to Canada for over 50 years, giving more than enough time for the government to realize band-aid solutions cannot address the high risk of abuse and forced labour inherent in a system where workers are deprived of their right to change employers.
As important members of our community, these individuals deserve permanent residence status and all the rights attached to that status.
While the government determines how to best implement policies giving people access to permanent residence, the employer-specific work permit must be eliminated in favour of policies that allow workers fundamental freedom within the labour market.
For more information on migrant workers and open work permits, as well as information on what you can do to help, visit online at www.openworknow.ca.
Shelley Gilbert is coordinator of social work services for Legal Assistance of Windsor.


Source link https://windsorstar.com/opinion/letters/guest-column-migrant-workers-deserve-fundamental-rights-in-canada