Comic strip staple is 'a human in a cat suit,' says creator Jim Davis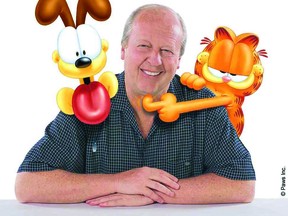 Article content
The funny pages are a riotous landscape of newsprint and ink, but it's there that one corpulent cat holds court. For 44 years, Garfield has regaled fans with his love of lasagna and hatred of Mondays, and revelled in relative inertia.
Article content
To hear his creator Jim Davis tell it, you have David Letterman to thank for each withering wisecrack and well-timed dog-punt. In the 1960s, both attended Ball State University in Indiana and both performed standup for their fraternities.
Article content
"He was hysterical," says Davis. "And I thought, 'I'm going to stick to cartooning, because if I can't be funnier than David Letterman (at standup), what would be my chances?'"
He particularly admired the future late-night host's deadpan, Everyman approach.
"He's not telling big jokes or anything," says Davis. "He's telling it like it is and we're identifying with it. He struck a familiar chord and handled it with a certain amount of sarcasm … I think it helped influence what my style of humour was when I approached the comic strip for the first time."
Article content
Davis's childhood also proved key to his success — and it revealed just how feisty and funny felines can be. He grew up on a farm in Indiana, where he estimates 25 cats roamed free. Asthma kept him indoors, and a fondness of drawing kept him entertained.
After university he worked for Tom Ryan, creator of the American frontier comic strip Tumbleweeds, and he tried to get his own strip, Gnorm Gnat, syndicated. Meanwhile, he was answering Ryan's fan mail.
"More and more, he was getting comments about inappropriate relationships and all kinds of things. And I thought 'I don't want to have to deal with that,'" says Davis.
Inspiration struck.
"I thought if I'm going to do a comic strip, I'm going to use an animal, because people really are much more forgiving of animals," says Davis. "Garfield as a human would be a slob. He'd be disgusting. But as a cat, it's like, isn't that cute? And by virtue of him being a cat, more people can identify with him. He's a generic human. A human in a cat suit, is how I refer to it."
Article content
Plus, although several strips featured dogs at the time, there were no cats. He named the tubby tabby after his grandfather, James Garfield Davis, and the strip debuted June 19, 1978, in 41 U.S. newspapers. It now runs in more than 2,400 newspapers worldwide, with 200 million readers.
The characters in Garfield's realm include his owner Jon and Jon's girlfriend Liz, dim dog Odie, gap-toothed cat Arlene, "World's Cutest Kitten" Nermal, and teddy bear Pooky.
Garfield has spawned 73 comic-strip books, 12 prime-time specials (four of which won Emmys), three TV shows (plus one in the works at Nickelodeon) and mountains of merchandise. There's also a third Garfield movie scheduled for 2024, with Chris Pratt voicing the caustic cat.
Article content
Davis, though, has a soft spot for those who still seek Garfield out in newspapers. In fact, when he sits down to craft a strip in his office — surrounded by family photos, favourite books, his Emmys, and sometimes his black Labrador retriever Gracie (he has no cats) — Davis has them specifically in mind.
"I picture someone opening up a paper and I'll ask, 'What do they see? How are they reacting to it, and what day is it?' I gauge the gag to the day of the week. Monday gags are pretty down, pretty slow, he's usually lying on his back … I personally don't hate Mondays, but, boy, Garfield does," says Davis.
"I usually throw Odie or a dog gag in on a Wednesday and then on Friday, there's usually a date gag or an Arlene or Liz gag because people are headed out. The gags that I like but don't think are as strong as the others, I put them on Saturday, because nobody reads the comics on Saturday. They're playing golf or going to the park or something."
Article content
Sundays, he says, often have two gags — a visual one for the kids, and one that hinges on words for the adults. The actual creative process is more free-flowing.
"It's like a working meditation. I sit and focus and relax — almost Zen. I conjure up Garfield in my head — it's like watching a TV set — and then I'll put him in a situation. I'll put him on the front porch, I'll have him stare out the window, I'll have him climb a tree, whatever. And then I'll watch him. Then when it ends in something funny, I'll back up three frames and just cut it off," Davis says.
"The truth is, I don't write his material. Garfield writes his material, and I just edit … With that said, not every day is a funny day. I can sit for hours and try to get in the mood, but that's not the day for it. On other days, I'm in a funny mood and it comes so fast I can hardly write it down."
Article content
He steers clear of politics and controversy ("social comment is done in the rest of the newspaper," he says) and sticks to what works: Gags that aren't tied to a time or a place, and relatable traits.
"It's hard to mess with lazy and fat," says Davis. "Not a whole lot of movement from that. If he ever got skinny, I'd have to retire because I'd lose papers."
On the business side of things, though, Davis has made some recent changes. In 2019, Nickelodeon's parent company Viacom acquired the rights to Garfield. Also that year, Davis announced that more than 11,000 hand-drawn Garfield comics would go up for auction.
At 77, Davis still produces the strip, but for how long?
"Until someone taps me on the shoulder and says, 'Jim, you're not funny anymore,'" he says with a laugh. A minute later, he's introspective.
"Years ago, the only cartoonists were syndicated newspaper cartoonists. There were only about 300 or so. Now, if you put your comic online and your mom likes it, you're a cartoonist. There are 300,000 cartoonists. And a lot of them are really good," he says.
"If anything, it's helped us. We're looking over our shoulders, because these kids are good. We're on our game now as much as ever."


Source link https://o.canada.com/entertainment/garfield-is-still-a-funny-favourite-at-44