Article content
Neither rain nor snow nor sleet shall keep them away. Students and staff from St. Clair College took the "plunge" down a chilly slip n'slide Wednesday morning to launch this year's Polar Plunge event.
Article content
Students and staff showed their dedication to the Special Olympics, in partnership with Windsor and Essex County law enforcement and first responders, by making their way down a slushy slip n'slide on the school's softball diamond to kick-off the 9th annual Polar Plunge.
Article content
"It is something that I do proudly on an annual basis," said Windsor Police Chief Jason Bellaire. "Why do I do it? I'm not a glutton for punishment. I do want to show my support for the amazing athletes who take part in Special Olympics.
"I do it because I want to support the team."
The annual Polar Plunge, a partnership between local law enforcement and St. Clair College, raises money for Special Olympics Ontario and 2022 is the first year back for the plunge after a two-year pandemic hiatus from the in-person event.
Article content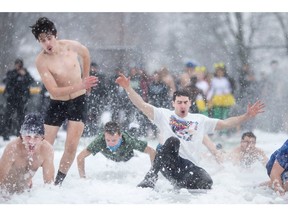 "It's a great event where you're doing something for the cause, you're not just saying 'I support this,' you're doing a physical action, making a sacrifice – jumping into frigid water," said Cst. Adam Young, one of the organizers of the Polar Plunge from the Windsor Police Service. "You're doing something beyond yourself, doing it for a bigger cause."
Students Bayley Langille and Jasmeen Kaur are two first-year Protection, Security and Investigation (PSI) students at St. Clair College who took a trip down the slip n'slide Wednesday morning. Shivering beneath blankets and jackets, both said they were "cold, but excited" and eager to participate in the Polar Plunge for the first time this year.
Afterwards, they took another trip down the slip n'slide just for fun.
Article content
This year's fundraising goal is $50,000, which got off to a healthy start Wednesday with a combined $15,000 donation from college's Student Representative Council, Saints Student Athletic Association and Alumni Association.
"Of all the annual events that were disrupted by the pandemic, I think I missed the live Polar Plunge the most," said St. Clair College President Patti France in a statement. "It truly brought out the fun, crazy, giving spirit of the college's students and staff – and, really, of everyone in our community – and helped to brighten our dreary winters.
"St. Clair is thrilled to renew this partnership with local law enforcement agencies."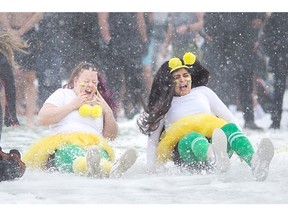 More than 1,000 people have taken the plunge in Windsor and Essex County since the first Polar Plunge in 2015. This year more than 200 people are expected to take the plunge, with all money raised benefiting the Law Enforcement Torch Run for Special Olympics.
This year's Polar Plunge will take place on Friday, Feb. 24 at 6:30 p.m. at the Windsor International Aquatic and Training Centre in a specially constructed pool just outside the front doors of the facility. For more information and to resister, visit polarplunge.ca/windsor-essex.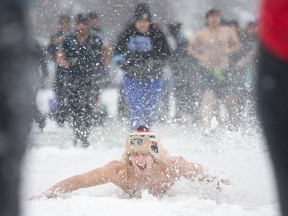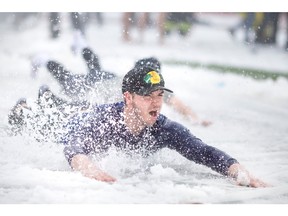 Source link https://windsorstar.com/news/local-news/first-responders-st-clair-students-slide-into-polar-plunge