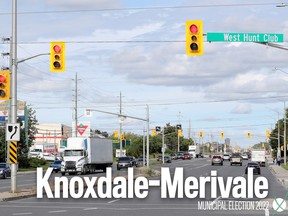 Article content
Quick facts about the Knoxdale-Merivale ward
Article content
Population: 42,940 (City of Ottawa, 2022 estimate)
Area: 47.27 square kilometres (City of Ottawa)
Article content
Incumbent: 
Candidates running in Ward 9:
Sean Devine, James Dean, Peter Anthony Weber, Myles Egli, Joseph Ben-Ami,  Peter Westaway and Michael Wood
Where is ward 9?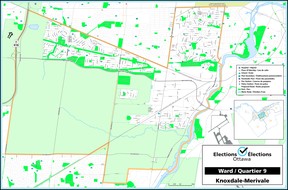 ---
SURVEY RESULTS
Do you reside within this ward?
Sean Devine: Yes
James Dean: Yes
Peter Anthony Weber: Did not participate
Myles Egli: Yes
Joseph Ben-Ami: Yes
Peter Westaway: Yes
Michael Wood: No
Why do you think you're the best person to represent your ward?
Sean Devine: "More than any other candidate, I possess the experience, leadership and vision required to be an effective councillor. This comes from my long track record of accomplishment as a community leader, most particularly when I organized the local recovery when my neighbourhood was devastated by a natural disaster in 2018."
Article content
James Dean: "I grew up here and continue to live here. I will bring fiscally responsible leadership to city hall. I have managed a $1 million housing co-op for over 17 years on a volunteer basis, making my community a better place to live for all."
Peter Anthony Weber: Did not participate
Myles Egli: "I am a community builder! I have lived in the ward for 30 years. I have been active within the community association for over 10 years. I have worked with many of the stakeholders and know their concerns. I will work with the residents to find solutions to community challenges."
Joseph Ben-Ami: "What sets me apart is my knowledge and experience. I have a strong background in business and both private and public finance as well as in engineering and project management. In short, I am by far the most experienced and knowledgeable on the issues."
Article content
Peter Westaway: "I know the people of our ward and surrounding area intimately from my decades of driving a taxi and fixing bikes on every street and getting to know and care about everyone. I have a clear vision to change Ottawa into one of the most exciting modern cities in the world."
Michael Wood: "Over the past three years, I assisted thousands of people over the pandemic. Whether it was their small business, through my non-partisan advocacy, or mental health town halls so people could access the resources, I have an open door to anyone that needs help and a passion for helping others."
What is the most important issue in your ward? Why?
Sean Devine: "The most common issue I'm hearing in Ward 9 revolves around concerns over the livability of our neighbourhoods. This includes tackling speeding on residential streets, with drivers routinely driving far above the posted speed limits. Residents are asking for better traffic calming methods and stricter enforcement."
Article content
James Dean: "Road infrastructure and speeding on our streets. I would like to give our community centres more authority to come to decisions on what they feel are the best solutions. Some solutions that I have for speeding are automated speeding cameras, elevated crosswalks near schools and parks, strategically placed stop signs and police enforcement."
Peter Anthony Weber: Did not participate
Myles Egli: "I feel that the most important issue facing the ward is intensification. I understand with the increasing population, there is a need to expand our current infrastructures while still maintaining our green spaces and the integrity of our current communities. We need to ensure that intensification projects focus on making certain that development coincides with the existing landscape and does not diminish the surrounding environment. I would work with developers and the community to achieve a representation that is mutually pleasing in older communities. Involving all the stakeholders early on would help to ensure a successful result."
Article content
Joseph Ben-Ami: "We must be careful not to over-generalize. The most important issue to an individual resident is the one they are personally concerned about. The item most people mention when I ask is affordable housing."
Peter Westaway: "Half of Ward 9 is made up of the Ottawa greenbelt. This greenbelt was a much too small and short-sighted vision. I don't want a single tree cut down. It is the massive cornfields that make up almost half of our entire riding that are just so very wrong. I first want many more trees planted around these huge fields, especially along Greenbank Road and others, where the barren fields cause treacherous conditions when the snow is blowing. I want the public and the City of Ottawa to convince the NCC to hold competitions like the one they held for the Lebreton Flats project. We must convert some of these rural farms that are inside our city into various new ultra-modern eco-cities. This is the obvious answer to our housing and affordable housing crisis. Let's make Ottawa into one of the most vibrant modern cities in the world."
Article content
Michael Wood: "The number one concern that continues to come up with residents of Ward 9 is community safety. Community safety means many different things to a lot of people and all are equally important. Residents in Knoxdale-Merivale are concerned about the "race track" some of our roads have become at night. Some areas of Ward 9 are concerned about road speeds as a whole and road noise. Residents want to see safe playgrounds as well as new playgrounds. Residents want to have cycling infrastructure improved in Ward 9 and cycling paths repaired so they feel safer. Residents want to have a reliable action plan when weather events hit the community like the tornado in 2018 and the derecho this past May. People simply want to feel safe in the community we love."
Article content
What is the most important issue citywide?
Sean Devine: "Ottawa's most important issue currently is public transit. We have a transit system that is not only unreliable, but it's not currently designed to meet the needs of today's riders. With Ottawa's population growing rapidly, fixing, expanding and modernizing public transit needs to be a key priority over the next term of council. This includes rethinking how transit is used beyond simply getting commuters to and from downtown. And since transit is one of our largest infrastructure investments, it's in our collective best interest to increase ridership so that we can get proper value for what we've spent."
James Dean: "One issues that should be at the top of every candidate's lips, councillor and mayor alike: I had to go through the mayor's office to get these numbers, our debt in 2010 was only $700 million and in 12 short years has skyrocketed to $3 billion!!! I vow that any issue coming to city hall that is adding to our debt, I will be voting NO. How will this impact our taxes?"
Article content
Peter Anthony Weber: Did not participate
Myles Egli: "The most important issue facing our city is affordable housing. We need to ensure that in the nation's capital there is housing available to all residents at a cost that they can afford. We will need to work with our counterparts in both the federal and provincial governments to ensure this happens. I would work with my fellow councillors, the community and developers to ensure that all new builds included a percentage of units designated for affordable housing. We need to take care of our residents. The time for action is now!"
Joseph Ben-Ami: "In a word: management. Virtually every problem we have in our city today, every issue that we are confronting, can be attributed to bad management and poor decision-making, resulting from elected officials with their priorities wrong and who lack understanding of the issues they are deciding."
Article content
Peter Westaway: "I don't understand why Jacques Gréber conceived of the Ottawa greenbelt without thinking about the long-term consequences. The population expanded much quicker than he predicted, and Kanata was already being developed while the greenbelt was being assembled. Instead of containing urban sprawl, it has completely exasperated it. The Ontario greenbelt that surrounds Toronto is recognized as a successful urban greenbelt. The Ottawa greenbelt is recognized as a complete failure. They are completely different in scope and vision. The NCC and the greenbelt are not owned by the City of Ottawa. However, they are owned by all of us Canadians."
Michael Wood: "After knocking on thousands of doors, the number one issue that continues to come up is transit, which I believe all candidates are hearing concerns about. As a whole, Ottawa's transit service needs to be more efficient and reliable as many have been left waiting for buses that simply do not arrive. Residents want a review of the LRT, especially with phase two coming up. This does not only include bus and light rail but a review of ParaTranspo as well. Many have been left waiting for accessible transportation to arrive leaving them unable to make doctor's appointments, and more." 
This article is available for free — outside of our paywall — because we believe this is a matter of crucial public interest. If you'd like to support us as we continue to provide journalism that matters for all Ottawans, please subscribe: https://ottawacitizen.com/subscribe/ 


Source link https://ottawacitizen.com/news/local-news/whats-the-biggest-election-issue-in-ward-9-knoxdale-merivale