Wednesday, Jan. 25: A reader applauds efforts at city council to support Iranian women. You can write to us too, at letters@ottawacitizen.com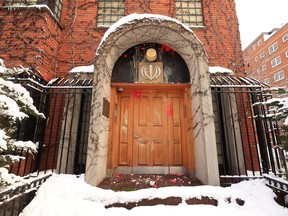 Article content
City should support Iranian people
Article content
Thank you to councillors Theresa Kavanagh and Ariel Troster for proposing a message in support of the Iranian women whose rights are being abused by the Iranian regime. I hope their motion to erect plaques with the name of Mahsa Amini near the Iranian Embassy is unanimously supported by city council.
Some people may argue that this is not an issue for the city to get involved in, but I disagree. It is the role of each of us to show solidarity with the courageous women and men of Iran who are risking and often losing their lives to do something that Canadians often take for granted: express disagreement with the regime.
Although renaming a street is symbolic and will not by itself change anything, the many symbolic gestures like this from all over the world are heard by the Iranian regime and, more importantly, by the Iranian people. They need our support, and we should give it in every way we can.
Article content
Fred Maroun, Ottawa
Why the 'stuff' in our lives matters
Re: John died, then his life was thrown away, Jan. 16
How enjoyable to read Kelly Egan's piece about "stuff." I'm glad he has not retired completely.
I thought I would share part of a tribute I wrote at the time of my father's  funeral:
"More importantly, Dad loved Mum. The social worker visiting Dad's apartment said it was unusual for a man to be so attached to his ornaments and his furniture. Dad wasn't attached to these things because he cared about possessions. He was attached to them because they were his link to the woman he lived with and loved for over half a century."
Colleen Rutherford Archer, Deep River
Train parents, not just students
Re: Riverview school closed for two days to train staff, Jan. 10.
Article content
I cannot help but think the school board is tackling this from the wrong end. It should be training parents as to what is not allowed at schools and what is allowed. The root of the problem seems to be with parents not teaching their children the school rules, which are then reinforced by school staff.
Parents should be cognizant of what their children are bringing to school.
Doreen Sarazin, Ottawa
Snow removal is like a dance
On Saturday night, I watched the well-choreographed performance that was the snow removal on my street. First came two little sidewalk plows gathering all the snow that remained there. Then, two larger plows shoved the huge snowdrifts at the curb into the centre of the street. This took a few well-coordinated passes. Finally, an enormous snow blower and its partnering massive truck did the slowest of passes a couple of times, successfully removing all the snow remaining on the road.
I always think of this as "The Snow Removal Ballet."
Many thanks to the hard-working crew who did a great job! Your effort and your skill are much appreciated.
Susan Buller, Ottawa
How about some simple street names?
Re: NCC to move ahead with renaming Sir John A Macdonald Parkway, Jan. 19.
Why not keep it simple and just call these roads the Western Parkway and the Eastern Parkway?
Annette LeBlanc, Ottawa


Source link https://ottawacitizen.com/opinion/todays-letters-on-mahsa-amini-and-the-iranian-embassy-in-ottawa