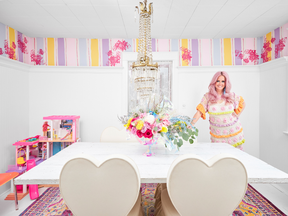 Reviews and recommendations are unbiased and products are independently selected. Postmedia may earn an affiliate commission from purchases made through links on this page.
Article content
The highly-anticipated Barbie movie starring Margot Robbie and Ryan Gosling won't be released until next summer but Barbiecore – the pretty-in-pink aesthetic – is already sweeping fashion and home décor trends.
Article content
There are lots of ways to infuse the cheery and nostalgic trend into your own home, from furnishings and accessories to paint. Canadian retail paint brand BeautiTone is among numerous retailers that have embraced pink to help you nail the popular trend.
Article content
Beautitone teamed up with Mattel Canada to celebrate the 60th anniversary of the Barbie™ Dreamhouse™ and created 13 Barbie-inspired paint colours. The collection includes the classic Barbie pink seen throughout the doll's iconic Dreamhouse and offers vibrant hues like radiant yellow as well as neutrals and pastels like a muted blue to pair with bolder hues.
"Colour is powerful. The right palette can help transform a room, your home and pick up your spirits," says designer Tiffany Pratt. Renowned for her signature pink hair, the TV personality admits she has "always been inspired" by the colours of Barbie's world and laments the neutrals trend. "Somewhere along the way, colour in the home has gotten the bad rap of being too risky. Colour isn't just for kids."
Article content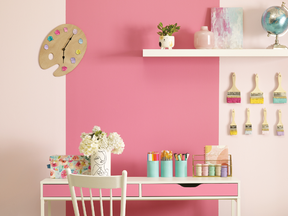 The Queen of Colour revamped her own dining room using the Barbie Dreamhouse collection, which is available at Home Hardware, Home Building Centre and Home Hardware Building Centre locations.
"Even as a person who fully embraces colour, my dining room walls were pretty darn white. Well, totally white to be honest," Pratt says. She painted a neutral tone along the lower walls and then hand painted the upper portion using a variety of colours from the collection – including the Barbie™ pink – and stencilled flowers.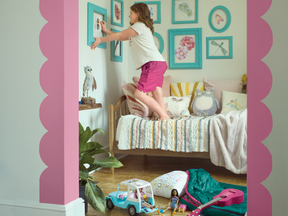 Pratt encourages you to "use the colours that feel like you" and to understand what you want your home to convey. Take your entryway, for example. It greets guests but is also a space you see throughout the day. "Why not make yourself smile and feel energized when you walk in the door? Sure, the monochrome wall works but the muted pink Self Care entryway feels cozier and more welcoming. The Career Goals dusty blue wall makes you feel something when you look at it. It gives you a sense that the person who lives here is willing to take some chances and have some fun."
Article content
Paint is an easy and affordable way to transform a space. "Instead of looking at your paint choices as permanent, have some fun with enjoying something colourful in a room for a period of time. Paint gives us the flexibility to play," she says.
But remember, you don't need to paint a whole wall to transform a space. A bold stripe or scalloping detail adds interest, fun and colour. Finally, give your kids a voice in a room's transformation. "Kids love making their own colour selections," says Pratt. "It's a great opportunity for them to express themselves and build a sense of pride each time they walk into the space they helped design."


Source link https://ottawacitizen.com/life/home-decor-its-a-barbie-world