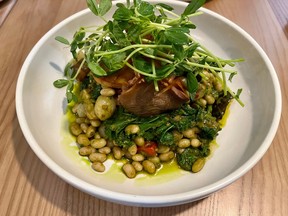 Reviews and recommendations are unbiased and products are independently selected. Postmedia may earn an affiliate commission from purchases made through links on this page.
Article content
Cocotte Bistro
123 Metcalfe St., inside the Metcalfe Hotel, 613-231-6555, cocottebistro.com
Open: daily for breakfast, lunch and dinner, see website for details
Prices: appetizers $10 to $24, mains $22 to $56
Access: no steps to front door or washrooms
Article content
I have half a mind to reach out to France's ambassador to Canada to see what he would say about Cocotte Bistro's vegan cassoulet.
Article content
Normally, that fabled rustic stew from southeastern France is a hearty meat-fest replete with pork sausage, duck confit and sometimes goose fat, all contributing to a slow-simmering transformation of white beans from peasant grub to fare fit for a gluttonous king. There's even an institution called L'Académie Universelle du Cassoulet, dedicated to promoting its namesake and upholding its authentic preparation.
At Cocotte, the cassoulet — or should that be "cassoulet" — does include white beans. But it does away with all the goodies for carnivores and swaps in roasted King mushrooms, a kale and walnut pistou, pearl onions, and confit cherry tomatos and a crowning peashoot salad.
Article content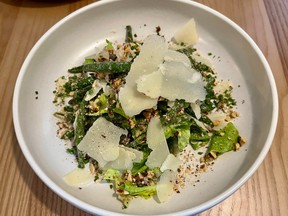 Part of me says this dish is a slap in the face of French cooking, or at least veganism run amok. Another part of me says chef Stephen La Salle's dish tasted pretty good, as dishes with properly roasted King mushrooms and good accompaniments usually do, and the cassoulet police ought to stand down.
Cassoulet controversy aside, I have many divided opinions about what we ate during our two visits to Cocotte, which opened in mid-September inside the Metcalfe Hotel, a newly renovated boutique hotel across from the Ottawa Public Library's main branch.
Previously, La Salle opened the Albion Rooms in the Novotel Ottawa Hotel and feast + revel in the Andaz Ottawa ByWard Market, two hotel restaurants where I ate well and which left me with clearer, less ambivalent responses. My thoughts may be muddied because La Salle's kitchen chooses to make some dishes that are more or less traditional, but also others that riff creatively on their French inspirations for a menu that could arguably be too large in it attempt to offer or riff on so many treasured French dishes.
Article content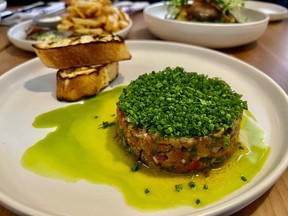 Ultimately, I had a few items that were magnifique but quite a few more that were meh-nifique.
Let's start with some winners. The pumpkin and butternut squash soup ($10), made with coconut cream in another nod to veganism, was comforting and autumnal. Salmon tartare ($19) that featured fish cured with lavender and herbes de provence, was flavourful and enjoyable. We were wowed by a main course of braised veal cheeks ($36), with its tender meat sitting in an appealing sauce that nodded to blanquette de veau, a beloved French stew. The "Ottawa-Brest" dessert ($14), successfully mashed up and the classic Paris-Brest dessert with — wait for it — fried dough à la Beavertail, and we couldn't get enough this maple-y, sugar-y indulgence.
Article content
But the other dishes that we tried did not hit similar heights and prompted gripes of varying sizes.
I quibble with the fish soup ($18), the cheaper spinoff of Cocotte's $58 bouillabaisse for two, because while it was tasty, its pickerel quenelles were a little heavy and the star of the dish was its grilled bread slathered in rouille. Fried veal sweetbreads ($20) were well executed, but we wished for more than three them in the order. Fogo Island Turbot crudo ($26) was a colourful and toothsome appetizer, but it had more connections to Peruvian cuisine that bistro fare.
I grouse that the Arctic char meunière ($34) was inelegantly plated and that its room-temperature beet and pearl couscous salad lacked the appeal of a hot accompaniment. The green bean Caesar ($19), while pleasant, needed more of a Caesar-y punch. The Niçoise salad ($28) came with plenty of seared tuna and a thick anchovy-enhanced vinaigrette that was more like a dip, but the rest of the dish felt over-simplified and undersized.
Article content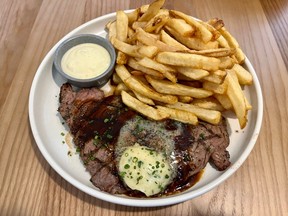 I stomp my foot at the inconsistency of the steak frites ($34), that quintessential French bistro favourite, which we ordered twice hoping for greatness. At our dinner, its fries were very good, while the meat was a mushy disappointment. At lunch later last week, the bavette steak was the best thing that landed on our table, but the fries were unappealing. In both instances, the sauce, which was nothing special, might have been better on the side or left off the plate.
I mentioned above that the menu might be too large. For my purposes, that was true because I didn't get around to ordering Cocotte's seafood charcuterie, bouillabaisse, beef tartare, duck confit, beef bourguignon, burger or onion soup. They may well be fantastic, but my budget, while generous, could not really roam through the expanse of the menu.
Article content
Food aside, Cocotte has other points in its favour. A round of cocktails at dinner was solidly satisfying and I'd order the smokey, maple-y Old Fashioned ($17) again. Service was well-trained and amiable, and the surroundings are nice and uncluttered.
So, almost three months after Cocotte's opening, it strikes me that its kitchen still has work to do to make its French inspirations proud. I'll hold off on inviting the French ambassador there for some cassoulet, and limit myself to making a diplomatic assessment that this restaurant is promising, but at this point, uneven.
phum@postmedia.com


Source link https://ottawacitizen.com/life/food/local-food-reviews/dining-out-cocotte-bistros-french-inspired-fare-included-winners-and-inconsistencies