Both the pandemic and the trucker protest were catalysts for collaboration among entrepreneurs who would normally compete with each other.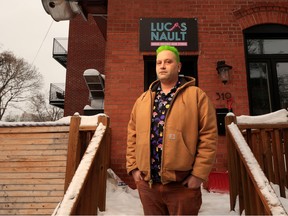 Article content
It's been almost a year since the trucker convoy rolled in to Ottawa to protest COVID-19 public health guidelines. Hundreds of vehicles and people blocked streets around Parliament Hill for more than three weeks, severely impacting business operations, supply chains and worker well-being everywhere, particularly in the downtown core.
Article content
There were painstaking consequences financially and emotionally: staff in various businesses being harassed; Canadian flags taking on a completely new meaning that triggered the wrong type of emotions; and, even a year after the events, Wellington Street remaining closed to traffic. The closure is a reminder of those stressful weeks.
Article content
For businesses on Ground Zero, the effects were much worse. Lucas Nault, owner of Lucas Nault Hair Studio on the corner of Somerset and Bay streets, says the convoy came at the worst possible moment in the downtown core for small businesses.
"The convoy caused traffic chaos and fear for the general public, which resulted in people not being able to make appointments for my appointment-based business, and a sea of cancellations for people (who) were not willing to come downtown," he said. Nault also lives in the downtown core and felt gaslighted by people when he complained about the non-stop honking and noise, which prevented him from getting a good night's sleep. "Emotionally, it also took a toll," he said.
Article content
Nault feels that all levels of government — federal, municipal and provincial — have a lot to learn about working together.
"I also learned that white protesters get a lot more leeway than Indigenous protesters." He remembers how, on a previous occasion, there was a protest for Idle No More. "It was cleared out within hours of starting," he said. "As a white man, this taught me a lot about privilege too."
From the teachings of Sun Tzu, "In the midst of chaos, there is also opportunity," many businesses took this period as an opportunity to create or improve contingencies and operating procedures. They pivoted for the 100th time and leaned hard on the business version of self-care.
One of my businesses is on Wellington Street in Hintonburg, and although it wasn't at the core of the convoy, it felt the domino effect of the chaos nearby. Some staff lived downtown, our delivery trucks got stuck in closures and business declined because of public uncertainty.
Article content
During this time, we created a crisis "standard operating procedure" that would have us continue operating our business with skeleton staff and locked doors. We were forced to think about how to keep employees as safe as possible, while still serving customers that needed our products. It forced us to adopt an apocalyptic-style business operation so everyone would be safe. Some staff felt safer at our shop than in their apartment elevators downtown.
The pandemic and the convoy were catalysts for collaboration among businesses that would normally work independently and even compete against each other. For instance, a group of downtown restaurant owners came together to create a new entertainment district known as SoPa (South of Parliament) that will promote gastronomic events in an effort to promote this district as a destination. This came after a brainstorming session hosted by Devinder Chaudhary, owner of Aiāna Restaurant Collective.
Article content
In a recent interview, Scott May, owner of Bar Robo in Queen St. Fare, said this initiative "was born out of the notion that somebody's got to do something to help the downtown core. I think everyone can agree that downtown is under some serious threat."
Wellington Street has remained closed to vehicle traffic in front of Parliament Hill since the end of the protest convoy. Businesses continue to feel the effects of a tumultuous time. As a city, we owe it to ourselves to take back our street, continue to support affected businesses and continue to push for federal, provincial and municipal collaboration and accountability.
Karla Briones is a local immigrant entrepreneur and owner of Global Pet Foods Kanata & Hintonburg; founder of the Immigrants Developing Entrepreneurs Academy; and an independent business consultant. The opinions here are her own. Her column appears every two weeks.


Source link https://ottawacitizen.com/opinion/briones-a-year-after-the-convoy-ottawas-small-businesses-have-learned-hard-lessons