The report recommends the appointment of a director of equity, diversity and inclusion at the MUHC as well as the creation of a safe mechanism for flagging discrimination.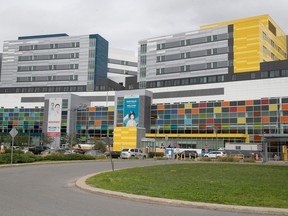 Article content
Facing intense public pressure for barring the principal authors of a landmark report on systemic racism from giving media interviews, the McGill University Health Centre reversed course on Friday and let the two women of colour speak to journalists about their findings.
Article content
Longtime patient-rights advocate Seeta Ramdass and Dr. Anita Brown-Johnson, chief of family medicine at the MUHC, spoke to the Montreal Gazette after the newspaper reported that they were not allowed to grant interviews. They said they were pleased the MUHC board of directors — of which they are both members — voted unanimously to follow all the recommendations in their report.
Article content
Chief among the recommendations is the appointment of a director of equity, diversity and inclusion at the MUHC as well as the establishment of a safe mechanism for employees and patients to flag incidents of racism, sexism and other forms of discrimination to the institution. The MUHC is Quebec's largest hospital network and has as its mandate the treatment of Indigenous peoples.
"I am overjoyed. I am so proud of the MUHC leadership in having begun on this path, which is not something that can be achieved overnight," Brown-Johnson said. "We know that it will take time to address and improve the situation. However, the first thing that's needed is the courage to recognize when there are areas for improvement and the will to actually do the necessary work."
Article content
In an op-ed published in the Montreal Gazette on Friday, Dr. Pierre Gfeller, executive director of the MUHC, described some of the examples of racism highlighted in the report as "disturbing."
Gfeller added that the voices of racialized staff and patients at the MUHC "have been heard and must be taken seriously."
However, in both the op-ed and in remarks at Friday's board meeting, Gfeller stopped short of using the term "systemic racism", even though it figures prominently in the report.
The issue of systemic racism in hospital settings in Quebec has resurfaced during the provincial election campaign, with Premier François Legault denying during a televised debate last week that it exists. The premier has repeatedly eschewed the term, at one point citing a definition of the word "systemic" in Le Petit Robert dictionary to try to back up his point.
Article content
Asked about Gfeller's choice of words — acknowledging that "the existence of racism and all forms of prejudice in 2020 is disturbing, upsetting and wrong" but not using the term "systemic racism" at the MUHC — Brown-Johnson responded:
"I think the best person to ask would be Dr. Gfeller. But I think you're also aware that we are a health-care institution that is basically under the Ministry of Health and Social Services, and so I would kind of venture that perhaps there might be some connection between those two things."
The MUHC declined to make Gfeller available for an interview to clarify his position.
However, on the National Day for Truth and Reconciliation on Sept. 30 last year, Gfeller released a statement saying the MUHC would abide by Joyce's Principle, which seeks to "end systemic racism in society." The principle honours the memory of Joyce Echaquan, a 37-year-old Atikamekw woman who died at a hospital in Joliette on Sept. 28, 2020. Echaquan recorded a Facebook Live video of her abuse and suffering by nurses shortly before her death.
Article content
Brown-Johnson said she was particularly struck by testimonials in the report involving the mistreatment of Indigenous patients at the MUHC.
"No doubt I was very concerned about … descriptions of mistreatment of Indigenous patients, for example," she said. "That I found to be very disturbing."
"I was very moved by the courage of the participants in the study who felt that it was almost a duty, that they had a sense of duty to share their experiences," she added. "But why? Not because they wanted to complain about the MUHC or create a bad image of the MUHC. Not at all. Not because they were looking for any type of compensation, but rather because they were completely convinced that they could help to improve the situation."
Article content
Both Brown-Johnson and Ramdass insisted in their joint interview with the Gazette that the problem of systemic racism in the health-care sector is not unique to the MUHC.
Ramdass, a former health-care manager, confirmed that she herself experienced racism in her career.
"As a person who was in a very public and administrative role, in my health-care career I experienced it many times and in several different health-care institutions," Ramdass said, adding that the abuses ranged "from physical to verbal to emotional."
Ultimately, Brown-Johnson suggested, more public education is needed to raise awareness about systemic racism, including among health-care managers and government leaders.
"When we talk about systemic racism, we're really talking about long-standing structures that exist through different policies and processes that are operating even if you are unaware or unconscious about it," she explained. "I think it behooves us all to learn about what it means, what is the definition of systemic racism before we start taking positions about whether or not it exists."




Source link https://montrealgazette.com/news/local-news/systemic-racism-in-quebec-health-care-not-unique-to-muhc-reports-authors-say