Tim Thomas used a "hurtful" remark during a recent closed-door city meeting.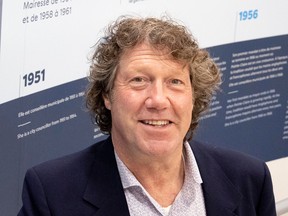 Article content
Pointe-Claire Mayor Tim Thomas is not anti-Semitic nor had any anti-Semitic intent when he used a "hurtful" remark during a recent closed-door city meeting, according to B'Nai Brith, Canada's oldest Jewish human rights organization.
Article content
"B'nai Brith has spoken to Mayor Thomas. We do not see him as anti-Semitic or having had anti-Semitic intent, but we have informed him his words were hurtful," Marvin Rotrand, national director of the League for Human Rights of B'nai Brith Canada, said in an email to the Montreal Gazette.
Article content
"We accept that (Thomas) is contrite and have offered to work with him, councillors and staff in Pointe-Claire to raise awareness as to anti-Semitism."
While some on community social media forums condemned the mayor as anti-Semitic and a racist, B'nai Brith found no such evidence after examining the file.
"We research politicians and we could not find anything that would lead us to conclude that Mr. Thomas is anti-Semitic (or) this is a behaviour that has happened before," Rotrand said.
Article content
"We've spoken to (Thomas) and he admits that what he said was inappropriate. He was very frank with us, open and honest about what had happened. He explained how he felt and how he reacted afterwards. There was nothing we could really fault. He said it was unfortunate and he understood that the words would be taken as offensive and hurtful by some in the Jewish community."
Rotrand, who served as a Montreal city councillor for nearly 40 years, said he was unfamiliar with the term Thomas used, a derogatory slur that refers to the act of burning down one's house or business in order to fraudulently claim insurance money.
"I had not heard it. I had to look it up," Rotrand said. "However, it could be taken offensively. Any ethnic group that's been accused of being arsonists could be offended. But I don't think it's seen in the same way as other types of slurs. Which is why we're not making a big issue of this.
Article content
"As well, Mr. Thomas said he is willing to work with us and he's very contrite."
Thomas acknowledged the hurtful impact of his words on his Facebook page, and also called each of the city councillors to personally apologize. But councillors Tara Stainforth and Brent Cowan did not return his calls.
The mayor said he has attempted to personally apologize to both Stainforth and Cowan but was rebuffed.
"The words we use can, consciously or unconsciously, be hurtful and reflect long-held historical biases in our society that we must work hard to eliminate," the mayor said. "I should have known better and will work to do better in the future."
Stainforth of District 4 said on her Facebook page that she was hurt by the mayor's slur that came while discussing a city dossier. She also had never heard the term used before, but searched it on Google to learn its anti-Semitic meaning.
Article content
Stainforth, who serves as chair of the city's Diversity and Social Inclusion Committee, has filed an ethics complaint against the mayor. She also said she will not attend meetings with the mayor present until he issues a formal written apology.
Rotrand noted that Thomas made his remarks during a closed-door caucus meeting and apologized afterward.
"He immediately reached out to some of the councillors, but I understand Pointe-Claire council is kind of divided."


Source link https://montrealgazette.com/news/local-news/west-island-gazette/pointe-claire-mayor-not-anti-semitic-bnai-brith-canada