Little did most of you know I'm a secret fashionista who's been accidentally ahead of the couture curve my whole life.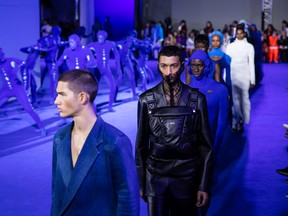 Article content
I was out with some twenty-somethings recently and belatedly caught up on recent fashion trends.
Article content
Some of the guys had meticulously tucked in half their shirts, but left the other halves messily hanging out. It's apparently called a "French half-tuck", that's in lately.
Article content
I didn't mention it, but I had the same look at their age, only it was hardly "in". Back then people just sneered and said: "Hey, your shirt's sticking out again, Freed you slob!"
Friends have always considered me a dressing disaster, a fashion black hole. But little do they know I've accidentally pioneered many future clothing crazes, in my role as Versace Josh. Among them:
Distressed jeans: From the precocious age of nine, I helped create today's designer "ripped knee" jeans look, which I unwittingly achieved every day, whatever pants my mother bought, or repaired.
Article content
Eventually she gave up sewing the knees and wearily told friends: "That's just my son, he's hopeless." Yet today my ripped-knee look can cost you twice as much as jeans with all the denim.
By my teens I had a new style: pants that sagged below my bum, exposing my underwear, decades before the look caught on in inner cities.
I came by the style naturally as I've never had hips. My waist droops into my legs and my pants follow, unless my belt's so tight I can't breathe. But instead of saying "cool look!", early girlfriends whispered:
"Pull up your pants, your underwear's showing!"
They didn't know my fashion innovation would spark a youth trend lasting years, grossing out older folks who somehow thought underwear should remain under something.
Article content
Gawking Stockings: Watch elite sports stars today and many are copying another style I pioneered: deliberately mismatched socks.
That's because I have an overstuffed sock drawer I rarely bother to sort. I once calculated it takes five minutes of sock pairing after each laundry load — about 20 minutes a month, five hours a year, or 15 days of your lifetime, socked away!
Alligator logos: For years I've often mistakenly put T-shirts on inside out, when rushing out late. Then strangers gently say: "Psst, your shirt label's sticking out."
But that's been great for local clothing stores as everyone sees where I shop. I was showing off Montreal Zellers and "Schreter" tags long before Polo shirts and others borrowed the idea, then brainwashed customers into wearing their logos outside, not inside their collars.
Article content
Camouflaged Colours: Light shades were a challenge in early life, especially white shirts, which were X-rays of my sloppiness.
There's only one photo of me in nursery school, though I'm hard to recognize because I'm covered in paint. It was a sartorial style I kept till college, only paint was replaced by mustard and other food stains.
You could usually tell what I'd eaten by examining my collar. Then again, if lost in the woods, I could've lived off my clothing for days.
By McGill, I'd discovered an avant-garde solution: wearing only black shirts and jeans, which helped mask the stains on my collar and lap, after cafeteria meals.
Who knew my funereal look would sweep the world, and black would become the new black again, and again, and again?
Article content
No-Noose necks: I always considered neckties to be hangman's knots that choked off air, causing men to die younger than women, by gradually strangling.
But in my mid-30s, I was forced to wear one regularly when I worked as an on-air CBC journalist in then uptight Toronto. After my first story ran nationally, some viewers complained about my "dishevelled" appearance, and an editor called me in for a literal dressing down.
He reran my taped item, then froze my on-camera presentation, stabbing a finger at the frame.
"Isn't that your tie?" he said, pointing at my neck.
"Yes," I said, pleased I'd mastered wearing one. "So?"
"So … it's OUTSIDE your collar!" he hissed, stabbing the screen again.
"And what's that?" he demanded, pointing at a blotch on my collar. "I could swear it's a mustard stain!"
Article content
Yet within a year the show gave up and let me lose the tie. Soon more reporters were copying me, then other people everywhere — and soon "casual Friday" began and spread to all week.
So you see, I'm a secret fashionista who's been accidentally ahead of the couture curve my whole life.
I did miss some trends. I went bald at the avant-garde age of 23, decades before bald became beautiful for everyone from Tom Cruise to Cate Blanchett. But I didn't shave my remaining hairs, or polish my dome like them — so I never got the credit that might have been mine.
Now that my half-untucked shirt look is finally in, what other Freed fashions will you be seeing on Paris runways?
Look out for my misbuttoned dress shirt look.
Also, wearing left gloves on both hands, as I constantly lose my right ones and improvise.
But I'm eagerly waiting for my signature mark to hit the runway: shirts with a subtly engraved yellow stain near the collar.
My Dijon mustard look.


Source link https://montrealgazette.com/opinion/columnists/freed-as-versace-josh-ive-pioneered-many-fashion-crazes