Vince Bacani was taken down by a Daily Double last week, but walked away a champion and fulfilled a longtime dream.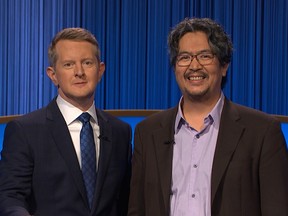 Article content
The question related to a geological age dating back almost 360 million years when the planet was covered with lots of ferns and other plant life. 
Article content
Though ever astute on matters relating to history and biology, and lots of other deep stuff, Vince Bacani couldn't come up with the correct answer here: Carboniferous. Bummer.  
That cost the Montreal risk manager everything on the Daily Double of last Wednesday's Jeopardy!, the most cerebral and the best of all TV game shows. Even though he made a valiant effort to get back into the game, Bacani ended up losing.  
Regardless, Bacani, 52, took last Tuesday's game with winnings of about C$17,400, which — along with the $2,700 second-place prize for Wednesday's show — covered his trip, plus some, to Los Angeles for the taping. Not to mention providing the experience of a lifetime for Bacani, a super Jeopardy! fan who had dreamed of this moment in the limelight since first watching the show with his family in the 1980s. 
Article content
It had been a while since a Montrealer had made much of an impact on Jeopardy!: Verdun writer and TV personality François Dominic Laramée won two games in June 2009.  
Our civic pride may have taken a bit of a beating when a couple of Torontonians cleaned up recently: engagingly quirky tutor Mattea Roach won an impressive 23 consecutive games and nearly $750,000 last year, while ever-chill scenic artist Ray Lalonde took 13 straight games and $516,000 last month. 
Regardless, Bacani did us proud. It was a long time in the making. He applied three years ago in an online test. Once making the grade, he had to wait a while before going through auditions, a mock game and an interview. After getting through those rounds, he was put into a pool and told he would have to wait up to 18 months before getting a shot on the show.
Article content
"It was after 19 months, when I had just about given up on getting there, that I got word that I was going on," Bacani says. 
So off to L.A. he went in November for the taping. He heard Jeopardy! tapes five shows in a day. So after shooting the first show, and winning, Bacani had all of 10 minutes before changing clothes and returning to the stage for the second show. Talk about stress. 
"I hadn't realized it was that short a wait time. I was running the whole time. And I didn't feel great about winning that first game. I missed really easy answers. Any time I had to stop and think, I got nervous." 
Curiously, he felt much better about the second game, despite the fast turnover. And were it not for Carboniferous, Bacani might still be on the show. But lose once and it's bye-bye. 
Article content
It's one thing to know about sports, culture and personalities, but quite another to have a clue about geology, anthropology and physics. We're talking Mensa-like smarts here.  
"You really have to be a Jeopardy! fan to get an idea of what kinds of questions are asked. They have their favourite categories, and you have to study them. Like authors and their novels. It feels like the right answer there is always David Copperfield," Bacani cracks. "But you really have to take chances. You have very little time to think and process." 
Bacani took in a Zoom conference Monday night, organized by Montreal's Cummings Centre, which featured 40-time Jeopardy! winner Amy Schneider.  
"I asked Amy how she had studied for the show. She said she went to a Jeopardy! website which has every single question and answer used on the show since Alex Trebek first began hosting it. Unfortunately, I only discovered these archives a few days ago." 
Article content
Bacani points out it's not just knowledge of seemingly arcane subjects that matters. There are physical attributes required. 
"It's all about the buzzer," he notes. "Very often, all the contestants have the right answer to a question and are equally capable of winning, so it really comes down to how fast and how often you get through on hitting the buzzer first." 
Bacani didn't learn the fine art of buzzering at McGill, where he graduated with a degree in engineering. But he ended up working mostly in risk managing for banks, where he oversaw portfolios of stock traders to keep them within certain parameters. He also owned a tutoring business and worked in energy derivatives. And with his classical music background, Bacani plays pipe organ for a Mohawk choir at the St-Francis Xavier Mission Catholic Church in Kahnawake.
Article content
Bacani has yet to build a rocket ship to take him to space, but it's probably only a matter of time. 
Although he concedes his Jeopardy! experience and the queries asked are mostly a blur, Bacani vividly recalls one answer to a poetry question: "If candy is dandy, but blank is quicker, what is blank?" 
Bacani successfully answered "liquor" and then added: "Boy, could I use some," much to the amusement of the audience. 
"I wasn't kidding. I was down $17,000 at the time and getting my ass kicked. But no complaints. This was a once-in-a-lifetime event I'll never forget." 




Source link https://montrealgazette.com/opinion/columnists/brownstein-jeopardy-gives-montreal-risk-manager-the-gamble-of-a-lifetime