Kirby Dach scored both Montreal goals. He and Nick Suzuki combined for 47:20 of ice-time.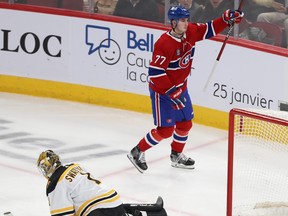 Article content
Kirby Dach supplied all his team's offence with two goals in another game that demonstrated his tantalizing potential. Sam Montembeault made 25 saves in his eighth consecutive start.
Article content
It was the usual suspects for Boston dealing out the damage. David Pastrnak had four points, David Krejci had two, while Patrice Bergeron had the game-winner.
An unlikely stat in the first period for the five-time Selke winner Bergeron: he lost eight of eight faceoffs against Nick Suzuki in the opening frame. It was scoreless after one. Rem Pitlick opened the game with a backside hit on Brad Marchand that excited the Bell Centre crowd. Montembeault had 11 saves in the first to keep his club in it.
Dach opened scoring in the second on a power play goal following some quick passing from Mike Hoffman and Evgenii Dadonov.
Article content
Speaking of creativity with the puck, Jesse Ylonen is starting to look pretty comfortable with the puck. He shovelled a nice backhand pass to Hoffman, who didn't shoot and immediately after took a penalty. On the subsequent Boston power play, Taylor Hall made the Habs pay. The second period ended with the game tied 1-1. Montembeault had 22 saves after 40 minutes.
Article content
Near the midway point of the third period, the Bruins took the lead. Krejci eluded his man Justin Barron in front long enough to tip home Pastrnak's shot, giving Boston a 2-1 advantage.
Article content
The Habs showed resolve and Dach tied the game up less than two minutes later, jumping on the loose puck in front.
Article content
Although split up most of the game, at pivotal moments the Bruins reunited their top line of Pastrnak-Bergeron-Marchand. With the game tied late, Bruins coach Jim Montgomery sent out his big guns, and they delivered right off the draw. Bergeron's goal gave them a 3-2 lead, with Pastrnak adding an empty netter in the final minute.
Article content
In two games since top goal scorer Cole Caufield went down for the season, the Canadiens have held their own against superior opponents. Consider it a mix of rallying around a cause and the usual uptick in effort against Original Six rivals Toronto and Boston.
Suzuki and Dach each played over 23 minutes, leaving other centre Christian Dvorak with only 14:15. The liveblog commenters are gushing over Dach's potential to become the big centre the Habs have long desired, and they're watching him blossom in front of their eyes.
This was also the sort of game that appeased both the pro-tank commenters and those who still want to see daily progress from the young players. Montreal hung on against the league-best Bruins without cashing any points in the standings.
3. "Nope Hoffman takes penalties, and coughs up the puck at the wrong time all the time. One thing for sure he's consistent. He's not an asset but a liability to the team." — Dennis Graf
2. "What a great performance from Monty definitely deserves # 1." — Hunter Muskoka
1. "Dach is going to be something else. Wow." — Marc Taillefer


Source link https://montrealgazette.com/sports/hockey/nhl/hockey-inside-out/about-last-night-habs-hold-their-own-against-leagues-best