lisa.moyer

The Town of Hamiton Official Plan identifies the central area of ​​Waterdown as a community node. Community nodes are areas with a significant concentration of services, stores, residential uses, and other facilities that serve as a focal point for the surrounding community. They are intended to have a combination of uses that allow access to housing, employment, services and recreation close to each other and public transit.
Waterdown's overall population has grown significantly and further growth is expected in the future. This growth will impact the form and function of the Waterdown Community Node, bringing with it opportunities and challenges. Changes to the area's transportation system, such as the planned east-west route north of the city centre, new cycle paths along main streets and other proposed road connections, will also have an impact. In addition, there is a need to protect the heritage features of the historic downtown, provide more detailed design guidelines for new development, and address traffic and access concerns in the area. A secondary plan is an important tool that can be used to guide change.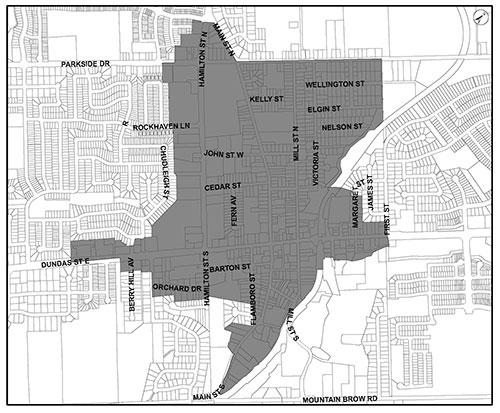 The purpose of the Waterdown Community Node Secondary Plan Study is to create a clear vision of how the area should develop in the future and to establish policies to implement this vision. This will help manage change and redevelopment by providing direction on the desired mix of uses, height, density, built form and urban design in the area.
Status
April 13, 2022: The city council passed By-law No. 22-070 adopting Urban Hamilton Official Plan Amendment 165 to the Urban Hamilton Official Plan and By-law No. 22-071 and By-law No. 22-072 approving the zoning by-law amendments to by-law no. 05-200 and by-law no. 90-145-Z. Calling card. Key card
March 22, 2022: City of Hamilton Planning Committee Virtual Public Meeting
December 2021: Zoning review completed
August 2021: Phase 3 of the project completed
May 20, 2021: Interim Control Administrative Rules
November 2020: Phase 2 of the project completed
May 20, 2020: Interim Control Regulations promulgated
December 2019: Phase 1 of the project completed
September 4, 2018: Information report submitted to the urban planning committee


Source link https://www.hamilton.ca/build-invest-grow/planning-development/official-plan/secondary-plans-progress/waterdown-community