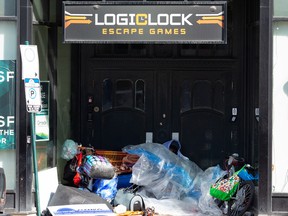 Article content
Plain and simple, Jasper Avenue from 103 Street eastward is a disgraceful and filthy eyesore. Complete with abandoned buildings, disgusting sidewalks, decrepit billboard kiosks, a centre median that is in disrepair, homeless folks, and dead trees. Has Mayor Sohi or O-day'min Ward Councillor Anne Stevenson walked through this area anytime recently?
Article content
Are they at all concerned about the impact this mess of a street has on the rest of our struggling downtown? Why not siphon some of the monies being poured into our embarrassing LRT system and use it to do a complete makeover of this stretch of Jasper Avenue? Most of the roadways in our fine city are currently under repair. What's one more?
Article content
Dave Wolkowski, Edmonton
Bike-lane money better spent elsewhere
Re. "Do we really need more bike lanes?" Letters, Sept. 30
A recent letter submitted by Bob Gaetz questioning the need for additional bike lanes hit the nail on the head. He introduced many factual commonsense points, one which made mention of our long winters. We are a winter city. We have, past and present, major issues pertaining to snow-removal methods suffice to enter into a pilot project.
Article content
Currently, bike lanes require an additional means of snow clearing by using smaller equipment which can only add to the removal budget. They also impede traffic in general, especially emergency vehicles. If one were to try to balance usage compared to maintenance, the associated costs clearly would favour maintenance.
I understand the number of bicycles and riders have increased but certainly not to the point where they require the proposed increase in lanes. We will never reach the point where usage will demand such an increase. We can argue all kinds of reasons for additional lanes including environmental reasons, however, simply apply a commonsense approach to the matter and the answer is very clear: no more bicycle lanes especially during these unfavourable economic times. Apply the proposed $170 million to a legitimate cause.
Article content
Garry Acres, Edmonton
Rethink wish for small government
While it is devastating to see the damage in Florida, it is a great political lesson for all of us. Their governor, while in Congress a few years ago, was one of a large group of Republican representatives who tried to vote down help for Hurricane Sandy victims in New England. His thoughts were that people should be responsible for taking care of themselves. Government should be police, military and border security. Now he is on every channel begging for federal assistance.
For those Canadians, obsessed with the right wing's desire for small government, you might want to rethink what you wish for. Ignoring federal rules, getting rid of the Bank of Canada, creating tiny health spending accounts and dramatically downsizing the government might sound great, but who will be there when the next tornado or hail rips off your roof or you need months of chemotherapy? Think before you react.
Inez Dyer, Edmonton
Letters welcome
We invite you to write letters to the editor. A maximum of 150 words is preferred. Letters must carry a first and last name, or two initials and a last name, and include an address and daytime telephone number. All letters are subject to editing. We don't publish letters addressed to others or sent to other publications. Email: letters@edmontonjournal.com


Source link https://edmontonjournal.com/opinion/letters/saturdays-letters-east-jasper-avenue-needs-a-makeover