When the Flyers hockey player Ivan Provorov refused to wear his team's colourful Pride warm-up jersey, he cited his Russian Orthodox religious beliefs as justification and boycotted the team's pre-game warmup skate, but later returned to play in the game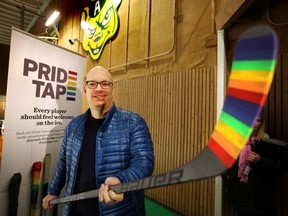 Article content
On Jan. 17, as part of the National Hockey League's Hockey Is for Everyone aspirational campaign, the Philadelphia Flyers held their annual Pride Night celebration versus the Anaheim Ducks. Pride Nights, often featuring rainbow-coloured Pride Tape, have become an increasingly common and colourful way for hockey, baseball, football and many other sports around the world to celebrate the inclusion of LGBTQ+ communities by inviting them into an environment that has traditionally not been welcoming or supportive.
Article content
The NHL is the only major professional sport in North America without a current or former openly "gay" player, which some point to as a product of a toxic or hyper-masculine hockey culture that keeps players in the closet.
Article content
In 2021, Luke Prokop became the first signed player on an NHL contract to publicly come out, which received widespread support, including from across the NHL. He even received a congratulatory message from Prime Minister Justin Trudeau. On the wave of this rainbow euphoria, many proclaimed that hockey culture had changed, and the problem of homophobia was a relic of the past.
Not so fast.
When the Flyers hockey player Ivan Provorov refused to wear his team's colourful Pride warm-up jersey, he cited his Russian Orthodox religious beliefs as justification and boycotted the team's pre-game warmup skate, but later returned to play in the game.
Article content
Perhaps his responses are not surprising given the fact that Russia has stripped away human rights and actively targeted LGBTQ+ people at home and abroad, with President Vladimir Putin citing the scourge of LGBTQ+ rights as motivation in his annexation speech, which launched the war against Ukraine. As a result, some have questioned if Russian-born players should even be allowed to play in the NHL at all, citing how Russia has been banned from many international sporting tournaments.
Provorov's boycott presents a conundrum for the NHL. What happens when pride is met with protest? Many fans and sports commentators, quickly called for a range of sanctions against both Provorov and the Flyers for letting him play, which included a million-dollar fine, benching the player, and even trading him.
Article content
Some pundits suggested Provorov's actions undermined his team, teammates, and the inclusive values of the NHL. Others cited Provorov's behaviour as a reminder that hockey culture has not significantly changed and much more must be done in terms of education, community outreach, and authentic partnerships with LGBTQ+ organizations, if any meaningful change is to actually happen.
While rainbows are important visible signs of progress and support, we know from many real-world examples outside of hockey that they are not enough. Hate crimes continue to rise and openly target LGBTQ+ communities. The recent deadly attack on Club Q in Colorado Springs is a tragic and sobering reminder of what is at stake. Human rights are much more than just a game.
Article content
Where do we go from here? Much has been said about hockey needing to change from a culture that has tacitly condoned sexual abuse, violence, misogyny, and homophobia. Perhaps one answer is clear, and what Provorov will not like to hear: Pride can't be cancelled and the protest of a few has never deterred the path of social change for the many. Progress toward inclusion and human rights has never been a straight line. Sometimes it feels like two steps forward and one step back.
Right now, hockey isn't for everyone, but maybe one day it can be if we truly put in the work.
Kristopher Wells is the Canada Research Chair for the Public Understanding of Sexual and Gender Minority Youth at MacEwan University and serves as the editor-in-chief of the international Journal of LGBT Youth.


Source link https://edmontonjournal.com/opinion/columnists/opinion-provorov-protest-shows-hockey-still-isnt-inclusive