Plus leggy petunias, lily planting and Edmonton's first aroid show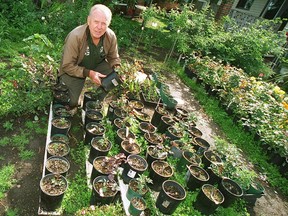 Reviews and recommendations are unbiased and products are independently selected. Postmedia may earn an affiliate commission from purchases made through links on this page.
Article content
Q I received a hardy rose bush earlier this summer as a gift. It's still in the pot. How should I best winter it? When would be the best time to plant it?
Article content
A If it were me, I would plant it in the fall. You can plant right up until a few weeks before temperatures hit the freezing point. It's a great time of the year to get bargains on many plants, and planting at this time is less stressful for plants because of the cooler days. I also enjoy working in the cooler temperatures.
Article content
Planting at least a few weeks before the freeze will give the plants a chance to get established and start some root development. Water them as you would any new plant but don't fertilize. You don't want the growth to be too fast as this type of growth can be damaged over winter.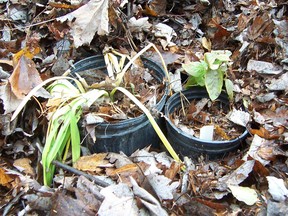 Leggy greens
Q I'm wondering why many of my plants have grown to huge heights, and spread so wide as well. My daughter started them from seed, most of which she had saved from her own plants in previous years. Those in question are petunias (which also produced a much more faded colour,) marigolds and painted tongue. They also did not flower till very well into the season. Do you have any wisdom in this regard?
Article content
A There could be several reasons for the tall and wide growth you describe, and it's described as 'leggy'. That legginess could be from a lack of light. They should be getting about six hours of direct sun per day. I also wonder about what type of fertilizer you've used. One with high nitrogen (first number in the formula) will encourage rapid growth with more leaves than flowers. For flowering plants, a formulation like 5-10-5 or 15-30-15 will work the best. In one of the photos you sent, your planter box looked a bit crowded as well, which can cause plants to grow up and out as well.
Petunias will also grow better with a bit of mid-season pruning. In early July, cut the plants back 20 per cent of the plant to stimulate new growth and blossoms, and match the height of the other stems too. Proven Winners has more good information on petunias.
Article content
Planting depth reexamined
Q Recently, you advised another reader they'd probably planted their daylily too deep. I have done this too, and three iris plants. Unfortunately, you didn't mention if there was a remedy for this. Can we dig the plants up and replant them? And if so, what time of year is best? Otherwise, should we replace the plants? .
A Don't you hate it when you ask a question and get an answer that makes sense but no solution is offered? I know I do and I apologize for the omission.
You can certainly rescue your daylilies that have been planted too deeply. The best time to do this is in the spring when the new shoots are just starting to emerge. Carefully dig around the plant trying to get as many roots in the ball as possible — the fewer roots you damage or disturb the better. In the planting hole, add some well-rotted manure or compost and a small handful of bone meal. Work the bone meal well into the soil and compost. Check the height by placing the rootball into the hole and ensure the crown of the plant is 2.5 cm below ground level. If it's too low, add more organic matter to the bottom of the hole.
Article content
Aroid show
As we transition into an indoor growing season, some of the more interesting houseplant species can be found at Edmonton's first Aroid and Vivarium Show. Aroids are from the family Araceae and include many common houseplants such as aglaonemas, monsteras, philodendrons and pothos. Vivariums are much like terrariums, enclosed spaces where plants are raised, except animals such as insects and reptiles are included for observation and research so expect all of the above on display and for sale.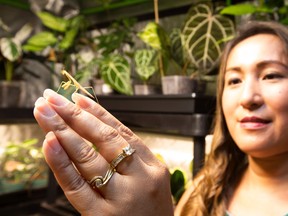 The show will be held at St. Basil's Cultural Centre, 10819 71 Ave., on Sept. 24 and 25 from 11 a.m. – 6 p.m. MKids under five are free and more information and tickets can be found at Eventbrite.ca
Learn more by emailing your questions to filipskigerald@gmail.com, reading past columns in the Life section at edmontonjournal.com or my book Just Ask Jerry. You can also follow me on Twitter @justaskjerry.


Source link https://edmontonjournal.com/life/homes/gardening/growing-things-2