The officers drank large amounts of alcohol and brought along a blood alcohol screening device and an item called a "booze bag"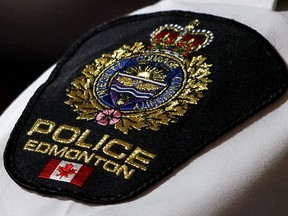 Article content
An Edmonton police constable found by a disciplinary hearing to have sexually assaulted a fellow officer on an off-duty ski trip has been fired from the service.
Article content
The Edmonton Police Service on Wednesday released the April 7 decision terminating Const. Stephen Fossen, a seven-year member of the force who was found to have groped a colleague during a 2019 social outing in Canmore.
Article content
Fred Kamins, the retired RCMP officer who presided over Fossen's disciplinary hearing, said he saw no alternative but to dismiss Fossen.
"(This case is) about serious misconduct by a male officer in a position of power sexually assaulting a female subordinate," Kamins wrote. "That is the very crux of 'Me Too' and the power imbalance in many workplaces."
"Const. Fossen denies the misconduct and in the face of my finding failed to address or offer any valid or appropriate alternatives to dismissal," he added. "How can you remediate the denial or lack of acceptance of responsibility? I am not sure you can."
Article content
Fossen was criminally charged with sexual assault by the Alberta Serious Incident Response Team, but the charges were ultimately withdrawn at the request of the victim. He has been suspended without pay since June 2019.
The incident happened Jan. 11, 2019, at an off-duty ski-trip in which several officers had rented a condo. The officers drank large amounts of alcohol and brought along a blood alcohol screening device and an item called a "booze bag."
At the time, Fossen was a well-liked officer with no prior disciplinary history, Kamins said. "By all accounts, Const. Fossen was an excellent police officer," he wrote. "He was a mentor to many and, to my mind, the embodiment of an informal leader."
Article content
The decision states that after a night of drinking, Fossen went to bed but couldn't sleep because his roommate was snoring. After leaving his room, he spoke with the victim at her open bedroom door, who offered to share her bed. Her identity is covered by a publication ban.
"No invitation to engage in sexual activity was made by the victim," Kamins wrote. "She was in her sleeping attire and under the covers. Const. Fossen was dressed in sweatpants and a hoodie and carried his own pillow and blanket and lay down on top of the bed covers next to the victim."
When she awoke, she found Fossen's arm over her body touching her genitals.
"The victim removed the arm, lay there processing what was happening and left the room without speaking. Const. Fossen left without speaking as well," Kamins wrote. "That was a sexual assault." Fossen later sent her a text message apologizing for "drunk Fozzie."
Article content
On Dec. 6, 2021, Kamins found Fossen guilty of a count of discreditable conduct under the Police Act. He rejected arguments from defence lawyer Bob Hladun, who claimed the victim simply "awoke to find Const. Fossen's arm across her and touching her," and that her decision not to testify in the criminal case was evidence of "sober second thought."
Kamins cited a victim impact statement filed by the officer, which spoke of her excitement at joining the police service and her "unhesitating desire to see the good in people."
"That changed in the wake of this incident," Kamins wrote. "She is particularly disappointed that other than the text message blaming things on 'drunk Fozzie,' she has seen no acceptance of responsibility for his actions or remorse for what he took from her."
Article content
Dismissal 'ridiculous': defence
During a hearing on Fossen's penalty earlier this year, Teresa Magee, the presenting officer representing Chief Dale McFee, argued Fossen should be fired, saying there would be "community outrage" if he were to continue serving.
"His actions in taking advantage of a junior female officer … call into question whether he could ever be placed into a policing position without constant monitoring due to his lack of integrity," Kamins wrote in summarizing Magee's argument.
She argued Fossen waited until the victim fell asleep and took advantage of her — a position Kamins ultimately rejected.
Hladun, on the other hand, called the idea of firing his client "ridiculous." 
"Public confidence is not so fragile as to be so easily shattered," he argued. "Const. Fossen had a good record and the Edmonton Police Service had invested time, training and effort in his development and that after one spur of the moment, drunken act, he is dismissed, would be of concern to the public."
Hladun also argued the victim did not want Fossen fired, a fact Kamins considered but gave little weight.
"This was not … an expression of doubt that the assault had occurred but rather a natural reaction to a horrific event where the victim just wanted things to go back to normal," Kamins wrote.
Edmonton police said the release of the April decision firing Fossen was delayed because its freedom of information unit is "working with reduced administrative capacity."




Source link https://edmontonjournal.com/news/local-news/edmonton-police-officer-fired-after-disciplinary-hearing-finds-he-sexually-assaulted-colleague