The Pursuit of Heaviness is being released with a show Sept. 24 at the Rec Room South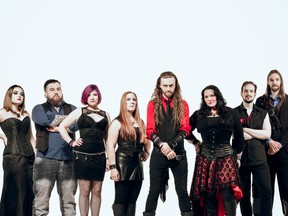 Reviews and recommendations are unbiased and products are independently selected. Postmedia may earn an affiliate commission from purchases made through links on this page.
Article content
Daniel Martin and The Infamous: The Pursuit of Heaviness
Article content
Heavy metal and theatre are strange bedfellows, yet frequently entwined. Daniel Martin and The Infamous is billed as theatric rock and plays the part with a lively stage show and costumes that look purchased from Edmonton's beloved and now defunct goth emporium, Sanctuary. However, the visuals are reinforced by strong, melodic heavy rock music, showing the band has substance to back up the style. The mish-mash of fashion and melodramatic metal is on full display in the band's latest release, The Pursuit of Heaviness.
Article content
Daniel Martin and The Infamous pulls off the same trick Evanescence perfected of infusing gothic, dark rock music with strong melodies and keyboard lines so your denim-clad cousin could headbang in the car while driving his nephew to his after-school rehearsal of Mamma Mia! The Pursuit of Heaviness, the band's second album, sufficiently rocks and also beckons for a fog-shrouded monologue on a stage.
Article content
Stripped of its vocals, Daniel Martin and The Infamous could easily pass as a heavy-rock band. Drums pound and guitars chug sufficiently while keyboards float in and out, but when Martin sings, often backed by a trio of female vocalists, one hears the theatricality. He's no Ronnie James Dio, but sounds ample while supported by the band.
The Pursuit of Heaviness kicks off with This is the Life, which sounds like a pirate shanty but with more black eyeliner than eyepatches. Marilyn features a fun, crunchy guitar riff that owes a bit to Marilyn Manson's Beautiful People, and Dancing in the Fire finds a happy medium between pop-friendly rock and metal. If you're wondering what happened to all the guitar solos in contemporary rock music, Daniel Martin and crew have been stealing riffs and hoarding them for this album, as every track is dripping in layers of guitars, with riffs flowing out like fake blood from a set of plastic vampire fangs.
Article content
Yet it's not all yowling and shredding: Eden is a duet with Amanda Kiernan, whose siren-call pipes sing of a relationship gone wrong, complete with a string section underscoring the heartbreak. As well, Summer is a funky acoustic ditty, a welcome respite from the "amps cranked to 11" guitar showdowns.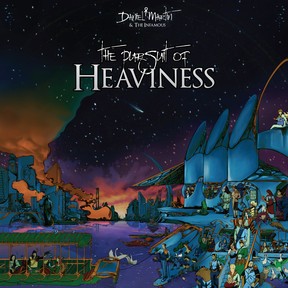 The band's musicianship is top-notch, as membership has apparently fluctuated to eight members, each one adding flair and building up the bedrock crunch. The songs are over-the-top and grandiose, which — depending on your tolerance level for showboating — can either hinder or aid your enjoyment of the album. One can't help but wonder how The Pursuit of Heaviness sounds on a stage rife with visuals to play along with the songs. At best, The Pursuit of Heaviness plays like a live album from fellow theatrical goth rock weirdos like Rob Zombie or Alice Cooper, leaving the listener to conjure up tales of macabre and broken romances to go along with the music.
Daniel Martin and The Infamous are playing an album release party for The Pursuit of Heaviness Sept. 24 at the Rec Room South. Find ticket info here.




Source link https://edmontonjournal.com/entertainment/music/fresh-tracks-daniel-martin-and-the-infamouss-new-album-begs-for-a-goth-metal-musical