With about 45 per cent turnout from Alberta Medical Association membership, a little more than 70 per cent voted in favour of the new deal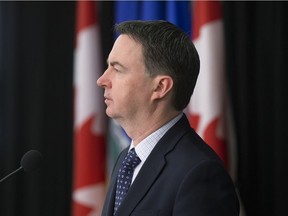 Article content
Alberta doctors have approved a new agreement with the province after more than two years of turmoil sparked by a UCP government decision to unilaterally scrap a previous funding contract.
Article content
The deal sees physician compensation increase by four per cent over the next four years, including a lump sum one per cent increase as a "recognition payment" for work over the course of the pandemic.
Article content
Doctors in specialties facing what the province describes as "greater financial pressures" will see bigger increases to their billing rates for services. Family doctors and mental health generalists will see a 4.3 per cent increase over the first three years, while the bump over the same time period for pediatricians is 4.7 per cent, and 4.9 per cent for psychiatrists.
The province is also promising to repeal a 2019 change to the Alberta Health Care Insurance Act that allowed government to unilaterally end its master agreement with doctors — a step former health minister Tyler Shandro took in February 2020. In return, the AMA will back down from a lawsuit seeking $255 million in damages and acknowledgments the province's actions violated the Charter.
Article content
With about 45 per cent turnout from Alberta Medical Association membership, a little more than 70 per cent voted in favour of the new deal.
Thursday's announcement also comes after AMA membership voted down a tentative agreement in 2021, leading to the start of a new round of talks with a third-party facilitator early this year.
The government is touting the latest deal as a move to stabilize the health-care system in the wake of the COVID-19 pandemic, helping to recruit and retain doctors.
It's also a shift in tone after the last agreement was ripped up just before the pandemic struck, with Shandro saying at the time that the government had to act to control ballooning health-care costs.
An additional $252 million in spending will go toward initiatives to help attract doctors to underserved areas, and primary care networks are slated to get $40 million lump-sum increases over the first two years of the deal.
Article content
The changes at the time cut what doctors could bill the government for patient visits over 15 minutes, removed overhead costs from billing outside a physician's clinic, and capped the number of patients a doctor could bill for in a day at 65.
Some of those changes were put on hold later in 2020, including making rural doctors exempt from the overhead billing changes after doctors in smaller communities said it was forcing them to cut back on their work in hospitals.
Health Minister Jason Copping and AMA president Dr. Vesta Michelle Warren are scheduled to address the new agreement Thursday.
—With files from Lisa Johnson
More to come.




Source link https://edmontonjournal.com/news/local-news/alberta-health-minister-to-detail-new-deal-with-ama