'We're still seeing high rates of illness. Yet we have the tools to address it'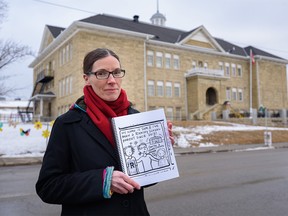 Article content
As student absences in public schools rise again after the end of winter break, parents are continuing to advocate for improved air quality measures.
Article content
More than two weeks after students returned to class, absence rates at the Calgary Board of Education rose to an average of 3.5 per cent for students in grades K to 9 on Jan. 18, and going as high as 6.3 per cent for students in grades K to 3 in the middle of this week.
Article content
Several schools have also hit outbreak status, with absence rates of 10 per cent or higher, including Emily Follensbee School at 18 per cent absenteeism, James Short Memorial at 10.5 per cent and Janet Johnstone School at 10 per cent.
This week, CBE also identified 1,072 jobs that required substitute teachers or casual employees, including 567 teachers and 377 support staff away due to illness.
Up to 108 of those jobs went unfilled, despite the fact high school students are not in class and writing final exams this month.
Article content
Parents requesting HEPA filters in classrooms
But parents asking the CBE to allow HEPA filters in classrooms say they are being stonewalled.
"There are many big problems within the education system — there aren't enough teachers, classrooms, resources or money. And these are all really difficult to tackle," said Sam Hester, mother of two children in grades 3 and 9 at the CBE.
"But when there are things that we can do right now, like allow HEPA filters to improve air quality, why not do them, and then maybe we can address these other things."
Hester says her kids' schools have seen high rates of absences this school year, which continues to affect socialization and learning nearly three years after the start of COVID.
Article content
'Being at school in person is better'
"During COVID, my kids were learning from home and they really missed out on all that social interaction," Hester said, adding that her younger son also experienced learning loss.
"Being at school in person is better in every possible way," Hester added.
"Losing out on social interactions, on learning in person, that is something you just can't replace.
"But even now . . . we're still seeing high rates of illness. Yet we have the tools to address it."
Parents say they're meeting resistance from CBE
Hester has sent the CBE several communications asking for HEPA filters in classrooms. But she says the answers have been confusing, including that HEPA filters could be used improperly and blow more contaminated air toward students.
Article content
"That just doesn't make sense, to say that we shouldn't use a tool because it may be used improperly. It's like saying you shouldn't drive a car, because it could crash."
Amanda Hu, spokeswoman for the Fresh Air Schools advocacy group, said she's collecting a roster of complaints from parents wanting HEPA filters in Calgary schools, particularly after the Edmonton Public School Association allowed them this past fall.
Hu said she recently spoke to a parent who asked a caretaker about air quality and the use of HEPA filters at a Calgary school. But when that was reported to the principal, the parent was warned that if she bothered the caretaker again, the school would be placed on lockdown and she would be removed.
Article content
"What we are seeing now is parents, students, even teachers fighting for better air quality being treated as if they were anti-science.
"When they ask valid questions, when they ask for basic information about air quality, the response is very defensive, very aggressive."
Learning loss remains an issue
Hu argued that renewed efforts to improve air quality and reduce illness are especially important amid more data showing learning loss.
Last week, the CBE released standardized test results showing significant drops in scores more than two years after COVID shuttered schools, then continued to cause intermittent disruptions in learning.
"There just doesn't seem to be a realization that learning is difficult if everyone keeps getting sick all the time," Hu said.
Article content
CBE said principals are working to address illness rates, as they were before the winter break, including modifying some events or activities as required, moving parent-teacher conferences and school council meetings online, or adjusting and postponing some gatherings or extracurricular activities.
CBE says air quality up to standards
The CBE said filtration efforts have not changed since spring 2022, when the system upgraded to MERV 13 filters "wherever possible," and that all schools are mechanically ventilated.
"Over the past two school years, Alberta Labour, Occupational Health & Safety and Alberta Health Services have inspected CBE schools and determined that the health measures in place are fully compliant with existing government recommendations," said CBE spokeswoman Joanne Anderson.
She added portable air cleaning devices, including HEPA filters, are recommended only when no mechanical ventilation exists, which means when windows are the only ventilation.
"As our schools are mechanically ventilated, we have not installed these portable devices."
But Hu argued that CBE's air quality systems are sub-par and that many older schools are still without MERV 13 filters.
The Calgary Catholic School District was not immediately able to provide absence data to Postmedia.


Source link https://calgaryherald.com/news/local-news/student-absences-rise-calgary-schools-hepa-filters-air-quality