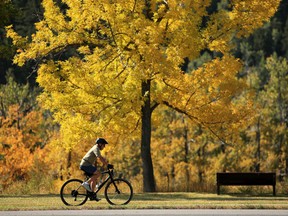 Article content
A new report from Nature Canada says not everybody has it made in the shade when it comes to Calgary's tree canopy.
Article content
The report on Canada's urban forests looks at tree canopy in multiple cities across Canada, comparing it to census data on people's average incomes as well as neighbourhoods with higher populations of Black, Indigenous and people of colour (BIPOC).
Article content
The report found a definite correlation between richer, whiter communities and more substantial tree canopy in Calgary.
Hannah Dean, organizing director at Nature Canada, said the trend is not limited to Calgary.
"There's this consistent trend in different cities across Canada where people of colour and lower income marginalized communities tend to have less tree canopy and access to free green space," she said.
She said having mature trees in a community provides multiple benefits, including natural cooling during the summer, habitat for wildlife such as birds, and clearing the air of pollutants.
Article content
"I think we can all agree that during the pandemic when we were told to stay home and stay safe that we turned to our local nature and to trees — and to the species that lives in those trees, like birds — to keep us entertained."
To measure the city's tree canopy, researchers looked at satellite images as well as 3D Lidar data to get percentage coverage in any given community. The socio-economic data was taken from the national census.
Dean said the study measured existing tree canopy, and did not take into account young trees that exist now and could provide canopy in the future.
In Calgary, the largest BIPOC populations are clustered in the northeast (Skyview Ranch to Forest Lawn), the far north (including Royal Vista, Evanston and Coventry Hills), and the southwest (in areas around Shawnessy and Bridlewood), primarily in newer communities.
Article content
The report noted Calgary's unique natural placement, which has parkland on the west and grassland on the east, saying the latter is "unsuitable for tree planting."
Dean said she couldn't speak specifically to the tree deficit in the city's northeast, but said the deficit also showed up in other areas.
"It is true that in Calgary, the east side is grasslands. But we do see other neighbourhoods across the city that have higher BIPOC populations where it is possible for the tree canopy to be more substantial," she said.
Nobody from the city of Calgary was available to comment on the report, but the city did issue a statement noting that visible canopy coverage can take 40 to 60 years to develop.
"The east half of the city contains many newer neighbourhoods where trees tend to be younger," read the emailed statement. "The canopy coverage in these areas will continue to increase as the trees in these areas mature."
Article content
The city said 75 per cent of Calgary trees are on private land, and programs are in place to protect and increase the number of trees for the remaining 25 per cent. Those measures include an urban tree strategy and a free tree program.
The report also noted Calgary has one of the lowest tree canopy covers of the cities studied — currently at eight per cent coverage, with a goal to reach 16 per cent by 2060.
Dean said Toronto's goal is to have 40 per cent tree cover by 2050, while other cities such as Abbotsford, B.C., have already reached 40 per cent.
The city noted that Calgary's unique dry and cold climate limits the type of trees that can be planted here.
Dean said the report was issued in the hope that it would get people thinking and talking about the benefits of tree canopy coverage. She said it is up to cities to be more strategic and purposeful in ensuring access to nature is more equitable.
"We know that marginalized and racialized people in Canada have often been neglected or looked over in conversations around conservation and nature and green space access. So we're hoping that this is a good contribution to that conversation."
brthomas@postmedia.com
Twitter: @brodie_thomas




Source link https://calgaryherald.com/news/local-news/tree-inequity-report-says-calgarys-more-diverse-neighbourhoods-have-less-canopy-cover