Dan McTeague, president of Gas Wizard, pointed to issues south of the border for the latest increase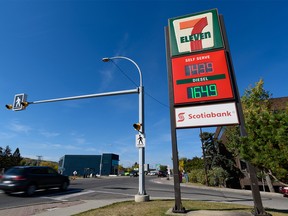 Article content
The price of gas is going up, even before the partial reinstatement of the provincial gas tax on Saturday.
Article content
The gas tax will add 4.5 cents per litre at the pump, but Dan McTeague, president of Gas Wizard, said Tuesday the biggest issue is the closure of two refineries in the U.S.
Article content
"We're price-takers," he said. "The theory is that if there's a shortage or crimp in supply, Americans will simply come north and buy what supplies we have and divert them back south, so the prices have to remain in lockstep with whatever happened south of the border."
Article content
The average price of gas in Calgary on Tuesday at noon was 144 cents per litre, according to GasBuddy.com, up 5.2 cents per litre over the past week and up 0.3 cents over Monday.
When Finance Minister Jason Nixon announced the partial reinstatement of the gas tax last week, the price at the pumps in Calgary went from 136.9 to 148.9 on the same day.
Article content
Micheal Loewen stopped at a Calgary gas station before driving back to Saskatoon (where gas was 164.9 on Tuesday). He said inflation and rising interest rates — which on his variable rate mortgage have increased his payments by $500 a month — are adding up.
"That has an impact," he said. "So you tighten the belt, you spend less, you go out less, you manage it."
Article content
Paul Hamnet, press secretary for Nixon, said in an email that Service Alberta's consumer investigations unit is looking into whether any retailers are engaging in unfair practices, and will take action if needed.
McTeague, who has called out gas stations this summer over price gouging, pointed to issues south of the border for the latest increase. A major fire at a BP oil refinery in Oregon, Ohio, shut it down on Sept. 21, while a refinery in Ferndale, Was., has been closed for maintenance. The Olympic pipeline, which serves refineries in the Pacific Northwest, is also set to be shut down for maintenance.
Article content
Alberta's refinery capacity has buffeted the province from some but not all of the increases. Alberta still has the lowest prices at the pump in Canada, with Manitoba and B.C. hit the hardest by the disruptions.
Rack terminal wholesale pricing is between 20 cents and 30 cents per litre lower in Eastern Canada.
But that could change.
Of particular concern is hurricane Ian, which McTeague said could threaten the Colonial Pipeline on the U.S. east coast.
The increase in the price of gas comes as West Texas Intermediate crude is at its lowest point since the beginning of 2022, opening Tuesday at $76.42 per barrel. While the province tied its suspension of the provincial gas tax to WTI, McTeague said that is not the best indicator for the cost of gas, noting futures — the Chicago spot market, specifically — have gone up 80 cents a gallon in the past couple of weeks.
Article content
"WTI crude is important for gasoline, but they're their separate markets," said McTeague.
He compared it to using the cost of lumber to determine the price of a home. While you need lumber to build a home, high home prices don't necessarily mean lumber prices are high.
"There's been a pretty stark increase in wholesale prices that have nothing to do with oil," he said.
He also pointed to a weakening Canadian dollar against the American Greenback as more reason for the cost of gas going up.
He said uncertainty in the futures market is exacerbating the fluctuation in price, adding the market is "broken," reacting to short-term headlines as opposed to the larger market.
"You've got a lot of bedwetting going on by analysts, people who are not really involved with the physical delivery of oil and gas," said McTeague. "We're going to see a massive spike in the price of energy because these guys are panicking, and the bears have clearly outnumbered the bulls over the past couple of months."
Article content
Winter is coming
McTeague said he expects the price of energy in general to jump this fall and winter.
He said it may not be as bad as in Europe, as Canada and the U.S. are still net energy exporters, but a reluctance to supply Germany and other European nations with LNG will cost us.
"Our difficulty comes from external forces, which are going to have impacts on our internal economies. Stagflation and a collapse of the European market, economies and industry will have a shattering effect on the North American market," said McTeague. "Bad news in Europe is going to be bad news in North America. The mere fact that we have decided as a country to turn our back on Europe and our inability to get oil and gas to them is going to come back and haunt us in many other ways."
Twitter: @JoshAldrich03




Source link https://calgaryherald.com/business/local-business/market-pressures-causing-price-of-gas-to-go-up