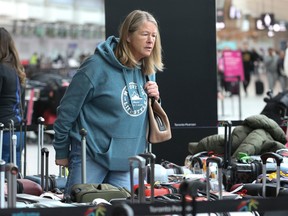 Article content
Canada has too much geography, to paraphrase Wilfrid Laurier, the country's prime minister more than 100 years ago.
Article content
It still has. We may brag about being the second-largest country in the world, but the majority of our land is uninhabited or only sparsely populated. Most of us live in a long ribbon of undulating land almost within shouting distance of the American border.
Article content
One result of having too much land and not enough people is that our national travel systems are only efficient and effective if you live in a major city. Everyone else is out of luck, dependent on the most obvious form of transport — their own vehicle. To refer to national "transportation systems" is an oxymoron.
Residents of Toronto, Montreal, Vancouver and Calgary have few problems getting from one to the other. But as became obvious at Christmas, the chaos caused by winter storms and not enough airline and airport staff has highlighted exactly what "too much geography" actually means.
Article content
If you fly direct from Calgary to Toronto, your chances of having your luggage going astray are few. If you do not live in a major hub, the chance your luggage will follow you through connections is reduced. This past holiday season showed Canadians exactly what happens when the busiest travel season is beset by winter storms and already packed planes, cancelled flights and nowhere to put the delayed passengers or their errant luggage.
It could not have happened at a worst time — the weekend leading up to Dec. 25. In a show of exquisite irony, the Canada Transportation Agency released a new "dashboard" on Dec. 19 to count the number of complaints registered against airlines. One cannot make this up. The chaos began days later. One can only imagine when the so-called dashboard exploded.
Article content
In the weeks following, rightfully angry and frustrated travellers poured their woes into social media, across all forms of communication and there were probably too many complaints to count. In Canada, Air Passenger Protection Regulations set out clear rules for airlines to follow. If you are bumped or delayed and it's something over which the airlines have control, you are owed food, drink and accommodation if you are held overnight. But if it's the weather, over which nobody has any control, in the words of the CTA, there is not the "same standard of care" required.
There has been much angry talk about vacations being ruined, about family reunions that didn't happen, about being stuck in hotel lobbies in Mexican resorts, for example. No one could argue those so disappointed do not have a case for complaints.
Article content
In reality, Toronto's Pearson International Airport has a dismal record of service, reportedly the worst in the world. This past Christmas was just the last on a long list. But there's a bigger issue going on here — the lack of transportation options.
If you live in Prince Rupert or Estevan or anywhere in Newfoundland or Prince Edward Island, you have no choice but to drive your own car or put yourself at the mercy of airline schedules. There are few options. If you can't or don't drive, good luck getting anywhere easily.
Rail service between Calgary and Edmonton died a slow death almost 40 years ago. If a private company hadn't started bus service between the two cities, there would be no other option. The last Greyhound service in Western Canada was eliminated in 2018. No wonder we cling to gas-guzzling vehicles. No government has chosen to address the inequities in transportation across all this geography.
Article content
The reason is simple: Governments think in four- or five-year cycles. Investing in any kind of equity — whether that be potable water for all, eliminating the digital divide or lowering cellphone charges — takes vision, money and time not just the opportunity to be re-elected.
Some believe more competition is the cure, that opening up Canada to foreign interests could solve the problem. That would not accomplish anything but more choice for people like me, who already have choices. There would still be no choice for rural residents or small towns. The "perfect storm" travellers faced over Christmas shows why there need to be more federal regulations applied to transportation systems and less reliance on private interests that control airports and their staff and are beholden to their shareholders.
I'm not holding my breath, but maybe angry passengers — a.k.a. voters — might elect a government with some vision.
Catherine Ford is a regular columnist for the Calgary Herald.


Source link https://calgaryherald.com/opinion/columnists/ford-short-sighted-governments-have-allowed-our-transportation-options-to-dwindle