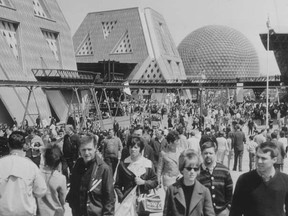 Article content
On this date, Sept. 22, in history:
Article content
In 1692, Giles Cory, one of nine witches executed at Salem, Mass., was the last to be "pressed" to death. The others were hanged. During the infamous witch trials, 13 women and seven men were executed, and more than 150 others were put in jail.
Article content
In 1761, Britain's King George III and his wife, Charlotte, were crowned in Westminster Abbey.
In 1776, Nathan Hale was hanged as a spy in New York by the British during the American Revolution. Acting on orders from Gen. George Washington, Hale disguised himself as a Dutch schoolmaster and made his way to New York where he was captured. His last words were: "I only regret I have but one life to lose for my country."
In 1791, English scientist Michael Faraday was born. He died Aug. 25, 1867.
Article content
In 1792, the French republic was proclaimed.
In 1827, the angel Moroni reportedly revealed the golden tablets containing the Book of Mormon to Joseph Smith. They were hidden near the family farm in Palmyra, N.Y. Smith's English translation of their strange hieroglyphics became the literary foundation for the Mormon religion.
In 1851, the capital of Canada was moved from Toronto to Quebec City.
In 1862, U.S. President Abraham Lincoln first issued the Emancipation Proclamation freeing the slaves. The final proclamation was issued Jan. 1, 1863. Together they brought freedom to about 200,000 slaves.
In 1862, Otto von Bismarck became premier of Prussia.
In 1866, Prince Edward Island rejected an offer of $800,000 from Nova Scotia and New Brunswick to join Confederation. Prince Edward Island finally joined Confederation on July 1, 1873.
Article content
In 1877, Chief Crowfoot signed an important treaty with the government of Canada. Crowfoot, feeling threatened by the deluge of unruly American traders in the area, put his mark on Treaty Number Seven which gave the Queen "all the rights, titles and privileges" to his people's land in the Prairies. In return, Indigenous got reserves, payments and annuities.
In 1887, William McMaster, businessman, senator, philanthropist and founder of McMaster University, died in Toronto. He was born in County Tyrone in Northern Ireland in 1811.
In 1911, pitcher Cy Young won his 511th and last baseball game. Annual pitching awards are presented in his honour in both leagues.
In 1914, a German submarine sank three British cruisers, killing 1,400 crewmen.
Article content
In 1921, Latvia, Estonia and Lithuania were admitted to the League of Nations.
In 1927, Gene Tunney successfully defended his heavyweight boxing title against Jack Dempsey in the famed "long-count" fight in Chicago.
In 1930, Parliament passed the Unemployment Relief Act.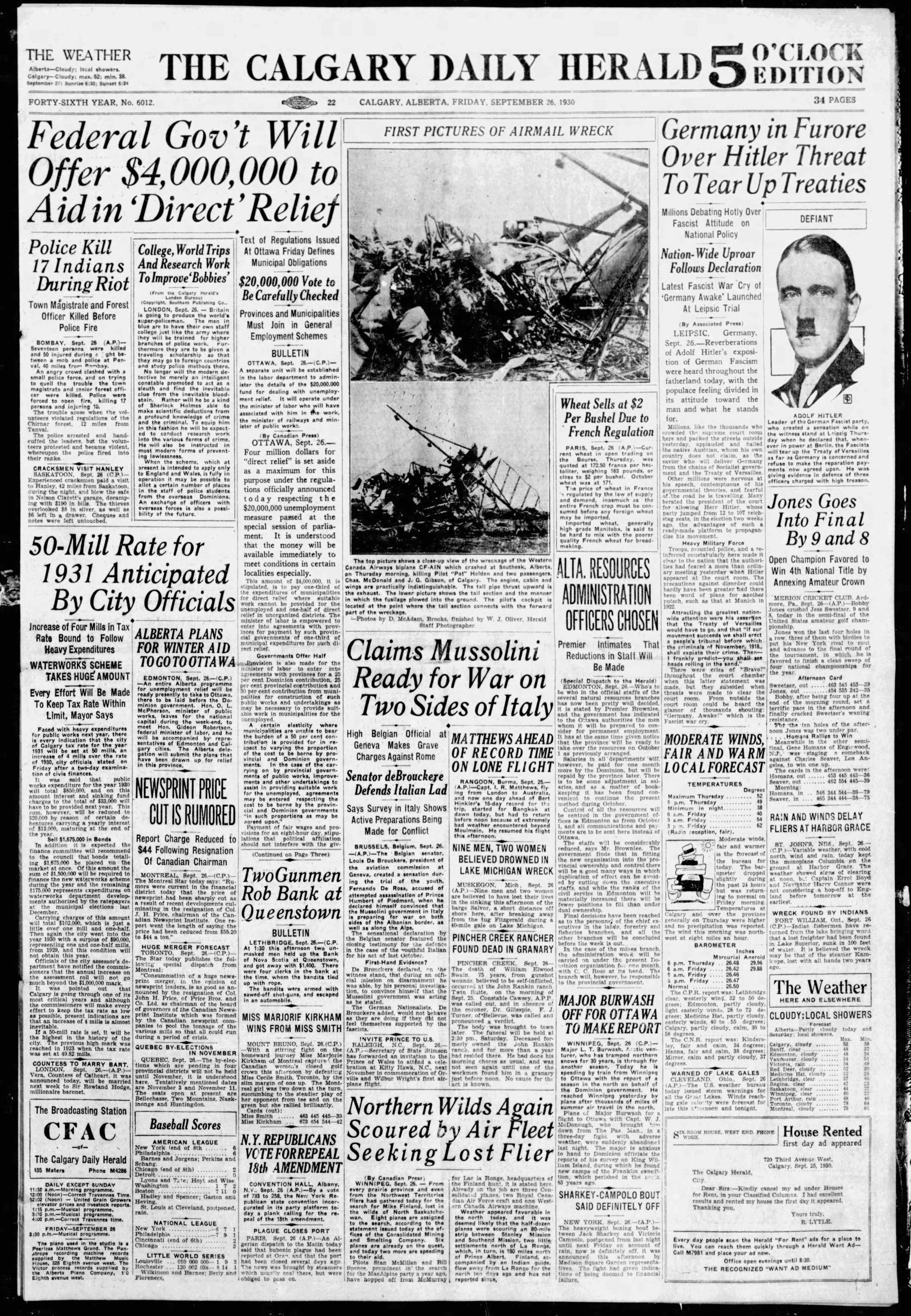 In 1934, an explosion and fire in a coal mine in Wales took 250 lives.
In 1940, Japanese troops entered Indo-China during the Second World War.
In 1949, the Soviet Union detonated its first atomic bomb.
In 1950, Dr. Ralph Bunche became the first black to win the Nobel Peace Prize.
In 1956, Montreal's Sam Etcheverry and Hal Patterson set a CFL record by combining on a 109-yard pass completion against the visiting Hamilton Tiger-Cats. The mark was tied in the 1965 Western final by Winnipeg's Ken Ploen and Ken Neilsen and in 1966 by Calgary's Jerry Keeling and Terry Evanshen.
Article content
In 1967, in Montreal, Expo 67 broke the attendance record of 42,973,561 set at the 1958 World's Fair in Brussels.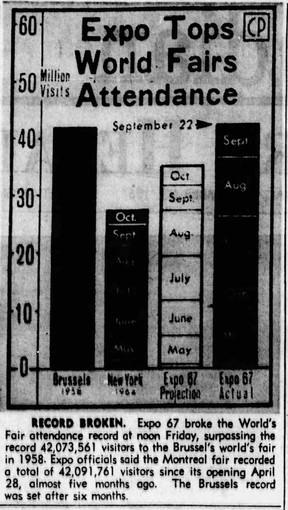 In 1969, the highest mountain in the Canadian Arctic, on Ellesmere Island, was named after the late Canadian anthropologist Marius Barbeau.
In 1974, the Honduran government declared the whole country a disaster area as a result of destruction caused by hurricane Fifi. An estimated 9,000 people died and $100 million worth of damage was caused to crops, houses and infrastructure.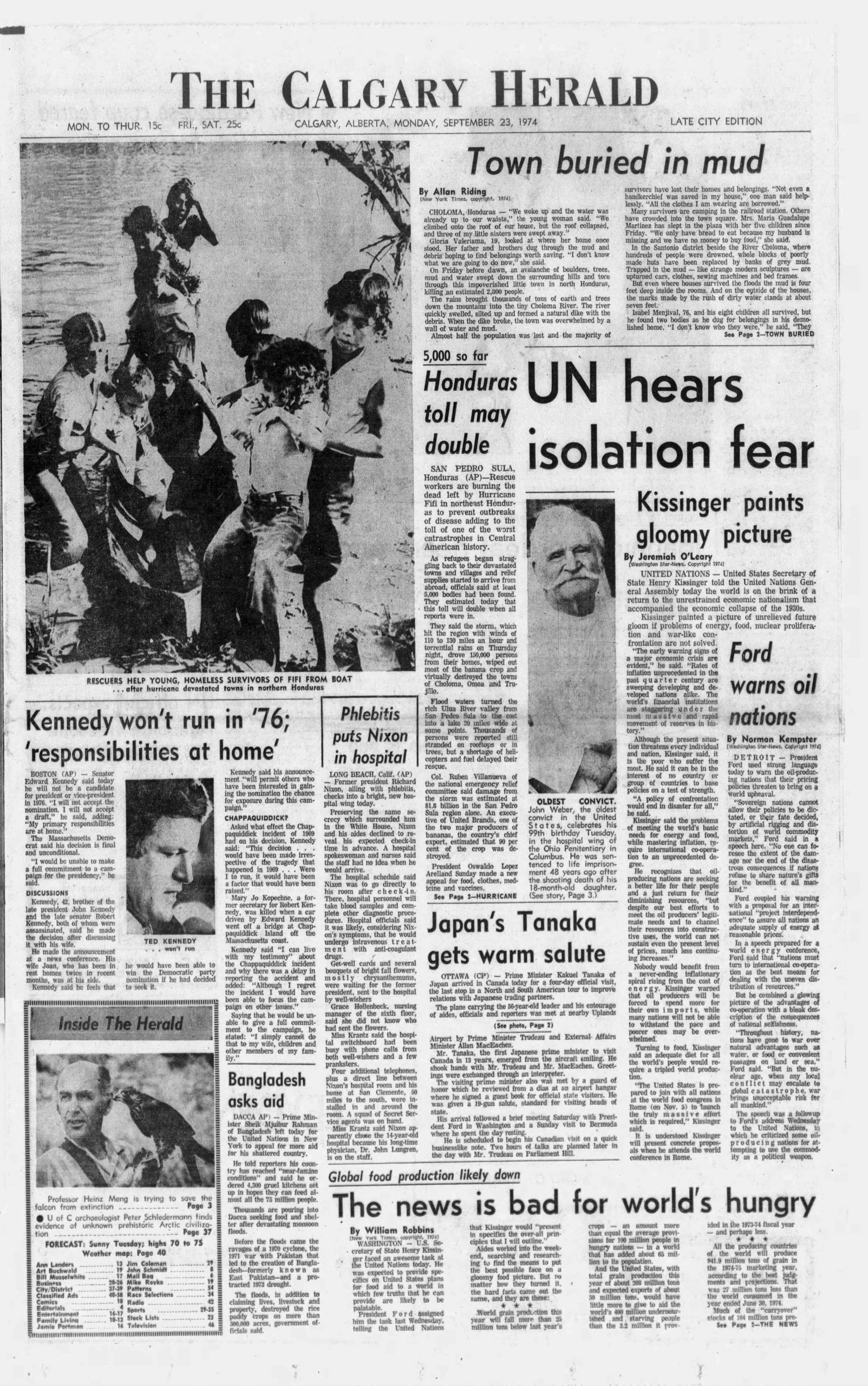 In 1975, a shot was fired at U.S. President Gerald Ford, the second time in 17 days an attempt was made on his life. The shot was fired by Sara Jane Moore while Ford was visiting San Francisco. On Sept. 5, Lynette (Squeaky) Fromme, a follower of cult leader Charles Manson, pointed a loaded gun at the president. Ford wasn't hurt either time and both would-be assassins were later convicted. Moore served 32 years in prison before being paroled on Dec. 31, 2007. Fromme served 34 years and was paroled on Aug. 14, 2009.
Article content
In 1980, a full-scale war erupted between Iran and Iraq after months of border skirmishes. The war lasted almost eight years.
In 1980, the Solidarity movement was born following Polish workers winning the right to organize free trade unions. Lech Walesa was elected leader.
In 1981, France put into operation a high speed train known as the "Train a grande vitesse," running from Paris to Lyon. With new tracks, locomotives and cars, the train set a railway record by travelling at 260 km/h.
In 1987, Canada's first quintuplets since the Dionne quints were born to Kim and Lauren Forgie of Orleans, Ont.
In 1988, the federal government announced a $300 million compensation package and apology for the 22,000 Japanese Canadians interned during the Second World War. In 1942, Japanese Canadians, considered security risks, were moved to camps inland from the B.C. coast and their property was confiscated. In making the compensation announcement, Prime Minister Brian Mulroney said, "No amount of money can right the wrong," but added, "error is an ingredient of humanity."
Article content
In 1992, the United Nations voted to expel Yugoslavia from the General Assembly.
In 1996, Ludmilla Chiriaff, dance pioneer and founder of Les Grands Ballets Canadiens, died in Montreal at age 72.
In 1998, about 10,000 gun owners swarmed Parliament Hill in Ottawa to protest the government's new national gun registry.
In 1999, Swiss drug giant F. Hoffman-LaRoche Ltd. and four other multinationals pleaded guilty to price-fixing and were fined more than $88 million, one of the stiffest penalties ever imposed in a criminal proceeding in Canada.
In 2007, Marcel Marceau, the master of mime, died in Paris at age 84.
In 2010, British-born Canadian actress Jackie Burroughs, best known for her role as schoolteacher Hetty King on the popular television series Road to Avonlea, died at her Toronto home. She had been suffering from gastric cancer. She was 71.
Article content
In 2013, Chancellor Angela Merkel led her conservative Union bloc party to victory in Germany's election but fell five seats short of an absolute majority and their coalition partners, the pro-business Free Democrats, were voted out of Parliament. (She later formed a coalition government with centre-left rival Social Democrats.)
In 2014, rookie politician Brian Gallant led his Liberal party to a majority victory in the New Brunswick election as voters turfed David Alward's one-term Tories. Green party leader David Coon won the party's first seat in the legislature while Dominic Cardy stepped down as NDP leader after the party failed to win a single seat.
In 2015, German carmaker Volkswagen AG stunningly admitted about 11 million diesel vehicles built since 2008 were intentionally fitted with software programmed to evade emissions controls. CEO Martin Winterkorn stepped down the next day. VW set aside C$9.6 billion to cover the fallout and lost billions more in market value.
Article content
In 2015, lovable legend Yogi Berra, the Hall of Fame catcher renowned as much for his left field wisdom as his unmatched 10 World Series championships with the New York Yankees, died at age 90. "It ain't over 'til it's over" and "It's deja vu all over again!" are among Yogi-isms included in "Bartlett's Familiar Quotations."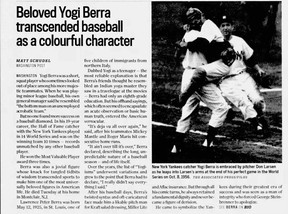 In 2019, Game of Thrones has won the best television drama series Emmy Award. The H-B-O fantasy epic takes the award for the fourth time in its eighth and final season. It was the just the second Emmy on what had been a mostly quiet night for Game of Thrones. Peter Dinklage won best supporting actor in a drama for the show. He set a record for most wins for the same role, four, breaking a tie with Aaron Paul of Breaking Bad. Fleabag won the Emmy for best comedy series. The win for the Amazon Prime Video series added on to an already huge night for show creator Phoebe Waller-Bridge. Her acting win blocked Veep star Julia Louis-Dreyfus from setting a record as the most-honoured performer in Emmy history. Emmy Award viewership plunged to 6.9 million, a drop of 32 per cent from 2018.
Article content
In 2020, the COVID-19 death toll in the U-S surpassed 200,000, based on the tally compiled by Johns Hopkins University. But experts said the true number is likely even higher, given that many COVID-19 deaths were likely attributed to other causes.
In 2020, the union representing Canadian auto workers reached a deal with Ford Motor Company. Union President Jerry Dias says $1.95 billion will be invested in Ford's Canadian plants, including $ 1.8 billion toward the production of five electric vehicles in Oakville, Ont., and an engine contract that could yield new jobs in Windsor.
In 2020, Rebecca O'Toole, the wife of federal Conservative Leader Erin O'Toole, tested positive for COVID-19. The couple and their two children had been in self-isolation since the previous week, after an aide tested positive for COVID-19.
Article content
In 2021, COVID-19 vaccine certificate or vaccine passport programs were now in effect in both New Brunswick and Ontario.
In 2021, the Liberals were re-elected in Fredericton. The race between incumbent Jenica Atwin and Conservative Andrea Johnson was too close to call on election night. But with the counting of more than 2,000 mail-in and absentee ballots, Elections Canada reported the former Green politician beat Johnson by just 502 votes.
In 2021, there were more than 600 signatures on an online petition calling for a review of Erin O'Toole's leadership of the Conservative party. National council member Bert Chen said some party members weren't happy with the more moderate direction O'Toole had taken the party, and believed he needed to be held responsible.
***


Source link https://calgaryherald.com/news/local-news/canadas-world-fair-breaks-attendance-record-of-42973561-expo-67-from-the-archives