Callers will soon have an idea of how long they'd have to wait on hold, and can choose to receive a callback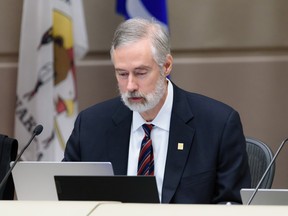 Article content
Citizens' concerns over the city services phone line have led some councillors to question how the service is being delivered, and the city says improvements are on the way.
Article content
The city's 311 phone and web service is a catch-all of citizens' questions, concerns and complaints on municipal matters, including things such as infrastructure, garbage collection, taxes and other city services.
Article content
In June, Coun. Andre Chabot shared concerns he'd heard from citizens about complaints being closed before they were resolved, calls being dropped and long wait times to speak with an operator.
Chabot said while he was proud of the service 311 delivers, he wanted those concerns addressed.
Coun. Richard Pootmans raised similar concerns at a council meeting last week.
City administration reported back with an update on what it's doing to address the problems.
In a report, city administration said a plan is being developed to modernize call features to include a callback option and queue estimates. That means citizens would have an idea of how long they'd have to wait on hold, and could choose to receive a callback rather than waiting on the line.
Article content
The city said it has already updated its front-end script (the number menu) to help redirect calls where needed. That move diverted more than half a million calls last year, according to the report.
In July, the city temporarily hired 10 agents to help with the backlog.
Pootmans said he's confident there are solutions that won't require hiring more staff.
"I think we can see improvements to service make people happier and — more to the point — resolve their problems and do it with pretty much existing resources," he said.
"The whole game here is wait times, so if we can reduce the call volume then we can probably improve wait times without having to add 100 new staff people," he said.
According to the city, 311 receives more than 1.2 million calls annually, which result in 501,000 service requests.
Article content
Pootmans said he has been talking with the head of 311 and expects the callback service to be operational by next year.
"I think a lot of people are just annoyed by having to wait for 20 minutes on the phone," he said. "But if you can say, 'Call me back in an hour,' then that might give the flexibility to resolve at least some of the frustration of having to wait."
Pootmans thinks artificial intelligence is going to play a big role in the future as the 311 system gets ahead of requests before they come in. He said rain or hail events can spark a flood of calls, and the system can be ready for those.
"There's a whole long list of issues where the responses are routine and helpful, but don't necessarily call for an individual's attention," he said.
brthomas@postmedia.com
Twitter: @brodie_thomas




Source link https://calgaryherald.com/news/local-news/calgary-311-service-to-get-queue-times-callback-service