In Jason Kenney's waning days as premier, the UCP is exhibiting odd and arguably heartless views on inflation and AISH payments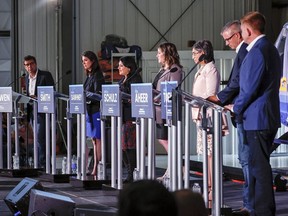 Article content
In Jason Kenney's waning days as premier, the UCP is exhibiting odd and arguably heartless views on inflation and AISH payments.
Article content
The province will restore 4.5 cents per litre of gasoline tax on Oct. 1. This is part of the policy announced in April, when the UCP suspended the 13-cents-a-litre provincial tax, but also said the levy would return in stages when oil prices fell.
Article content
From mid-August to mid-September, oil prices dropped to an average of US$89.26 a barrel. This triggered an increase of 4.5 cents at the pumps, beginning Oct. 1.
Gasoline prices have fallen considerably since spring, when they approached $1.90 per litre. On Friday, Calgary prices ran in the mid-$1.20 range to about $1.45.
These falling pump prices have almost single-handedly lowered the national inflation rate, which was seven per cent in August.
But adding any tax to the pump price now, even 4.5 cents, is an inflationary measure. It puts new pressure on the one sector that was falling even as others are rising inexorably, especially for food.
Article content
Another key measure is re-indexing personal income tax to inflation, which the UCP announced Aug. 31. This means Albertans will pay $304 million less tax in 2022-23.
De-indexing, which the UCP had begun in 2019, had already cost taxpayers $647 million from 2020 to 2022.
The re-indexing is exceptionally good news for regular Albertans in a time of high inflation.
Of course, re-indexing is also inflationary because it leaves people with more money to spend.
This is where heartless hypocrisy enters the picture.
At the same time tax re-indexing was announced, the government said payments for disadvantaged Albertans, including recipients of Alberta Income for the Severely Handicapped, or AISH, would NOT be re-indexed.
Article content
The government insists that payment levels for this benefit are 37 per cent higher than the second-most generous province. The NDP insists that's simply not true.
A single Albertan living on AISH in the community receives $1,685 a month — not much to live on, no matter what the benefit might be elsewhere.
Inflation now takes seven per cent or more from that value. AISH recipients will continue to be hit with real-world reductions in payments.
On Sept. 7 Kenney was asked about the failure to re-index AISH and other benefits.
Article content
He cited the province's high payments as a key reason. He also warned that the government has to contain costs because revenues might not stay high.
"We don't want to get too far ahead of our skis," he said, adding that the province "can't make the mistake of jacking up our spending."
He also painted re-indexing of AISH as an inflationary measure.
"We don't want to add fuel to the fire of inflation as some governments are doing by spending more and more," he said, when speaking about AISH.
Finance Minister Jason Nixon made much the same argument.
Well then, why de-index income tax? Why raise gasoline prices? Both measures are inflationary and have a much bigger impact on the general economy than AISH.
All the UCP leadership candidates condemn the government's failure to re-index AISH.
Article content
Rajan Sawhney, who as social services minister fought pressure to cut the program, says, "I was the first to say I will commence indexing."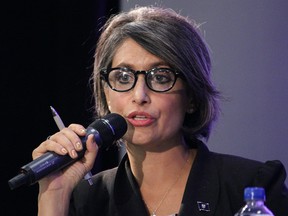 Leela Aheer also claims first place. "I was the first to put that out when I declared I was running."
Rebecca Schulz says: "Re-indexing other supports, including personal income tax, but not seniors and AISH benefits, is not fair, isn't aligned with the feedback I've heard, and is not flagrant spending."
Todd Loewen, the most small-c conservative of all the candidates, also calls for re-indexing.
Travis Toews, who was treasurer when de-indexing was announced, says "I will re-index those programs where we paused indexation, and that includes AISH."
Danielle Smith states: "If elected premier, I will urge caucus and Treasury Board to immediately approve the indexing of AISH and other benefit programs for low-income seniors and the vulnerable. It's simply the right thing to do."
Brian Jean, too, calls for AISH recipients to get the full benefit of re-indexing.
"I am also open to working with AISH advocates to increase the amount of money recipients can earn before their support gets clawed back," Jean says. "It's the right thing to do given what's happening to the cost of necessities."
Remarkably, all seven candidates to replace Kenney condemn a decision made by their own government during the leadership campaign. It was that hypocritical.
Don Braid's column appears regularly in the Calgary Herald.
Twitter: @DonBraid


Source link https://calgaryherald.com/opinion/columnists/braid-government-hypocrisy-on-re-indexing-offends-all-seven-ucp-candidates